Chris: What is Cryptorocks?
Cryptorocks team: Cryptorocks are lifetime lottery tickets represented by NFTs. We are a collection of 3,333 items that work as a ticket in our permanent decentralized lottery. The collection is designed in low poly art with the embedding of a cryptocurrency. Each CryptoRock lives on the Ethereum blockchain.
Chris: What inspired us to develop this rock-based collection? Are you a pet-rock lover too?
Cryptorocks team: At Devs tech we are lovers of technology, we like crazy concepts and we thought of merging the decentralized lottery with the rise of collectible nfts through crypto currencies, all of the above gave us the idea to create this great project.
Chris: Rocks differ in color, characters, and shapes. What are the different characteristics that make each token unique and different?
Cryptorocks team: Each rock is modeled in 3d using the so-called low poly style, additionally each cryptorock will be worth a different number of tickets in our lottery so there will be a different probability of winning the monthly lottery depending on the one that comes out when it is revealed.
Rarity definition charts:

Chris: How do you buy Crypto Rocks NFTs?
Cryptorocks team: Right now we are in phase 1 of our roadmap so if you want to acquire one of our cryptorocks you must enter our whitelist and fill out the form, you can manage that in the following link:
https://docs.google.com/forms/d/1kb2AQoBCxYiPkxctcBIwvP6QzwK4t1_BtU4z17nP6n0/edit?usp=sharing
after registering and being chosen you can enter our private sale on our page
Chris: How does cryptorocks work?
Cryptorocks team: Through a Smart contract audited by Saferico Company with which we guarantee our transparency, you can see the report at this link
https://github.com/CryptoRocks/Crypto-Rocks-/releases
Chris: Crypto Rocks has a big lottery to come. How can your investors participate in this lottery?
Cryptorocks team: By purchasing at least one Cryptorock you are immediately a participant in our lottery
Chris: What is the lottery forever and how to participate?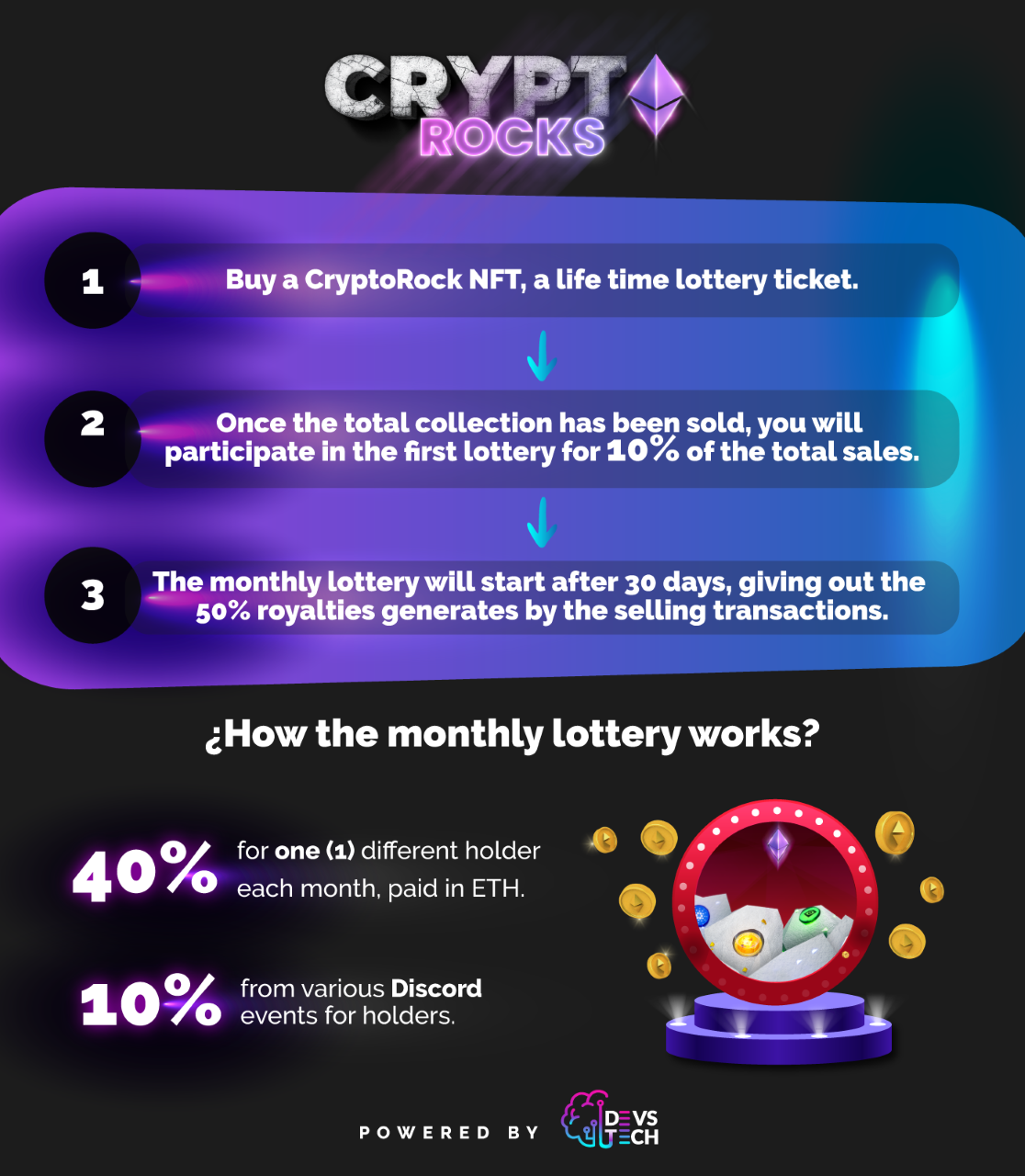 Cryptorocks team: To explain this lottery, we must first explain what royalties are, when an NFT collection is launched on the market, the company that creates these digital goods receives a commission every time an owner sells this good to another user. So this commission per sale is about 7.5% in the sale price so the monthly lottery will be 50% of these royalties then this will be raffled among our owners and community, the way in which it will be raffled is as follows:
Each rock has a rarity and depending on it will have a number of tickets, so the rarer your rock, the more chances you will have of winning, in this draw the lucky winner will receive 40% of the royalties collected that month.
We feel great appreciation for our community so that the monthly 10% of what is collected by our cryptorocks will be raffled on our official server https://discord.gg/cryptorocks and you will be participating by owning one of the nfts and by beign active with community events.
Chris: Apart from this, how have you priced your tokens? How the tokens have been priced? Are they the same price or are they priced based on rarities?
Cryptorocks team: In a presale state, people will buy a Rock where they do not know what type of rock will come out, these Rocks in the first presale will have a cost of 0.1 ETH, in the second presale these Rocks will have a price of 0.23 ETH and the public sale price is pending to be announced.
Chris: What are future plans to increase the reach and scope of Crypto Rocks NFT.
Cryptorocks team: We are developing a long term financing for the cryptorocks nft project by giving holders part of the money that is being moved by sellers , in this way the utility comes in for a long time .
Devs Tech is a company that has great projects, with the Cryptorocks project we have the vision that it be the largest decentralized lottery in the NFT guild that the community understands the value that each one has since it is a kind of lottery ticket that it is bought once and just by holding it you can receive a large amount of Ethereum.
In summary:
We are the first decentralized NFT lottery where you buy a cryptorock you will participate in a big draw once all the cryptorocks are sold and monthly we will continue to do draws! It is like a lottery ticket that you buy once and you will always keep playing, which can bring you abundance at any time just to keep it.
ROADMAP
Phase 1
Presale 1
Presale 2
Official sale
Note: This phase ends once all Cryptorocks are sold.
Phase 2
Once all the Cryptorocks are sold, our smartcontract will raffle 10% of everything raised by the collection to one of our lucky Rockholders.
Note: Each Cryptorock has a number of tickets depending on its rarity
Phase 3
The draw for 50% of the royalties collected during that month will be held monthly, the draw for this amount will be made as follows:
Each Cryptorock has a number of tickets depending on its rarity, which will play monthly for 40% of the total royalty collection of the expired month in this draw play all cryptorocks without exception through the smartcontract already audited for the transparency of the lottery.
If you want to earn an additional 10% of the royalties of the expired month you have to have an nft and belong to our discord community and be attentive to the events that we will be announcing.