Greetings, NFT enthusiasts! My guest today is Yui — Marketing & Project Manager of Mofu Mofu Girls NFT.
Chris: The Mofu Mofu Girls NFTs represent the anime. There could not be a better choice for an NFT collection! Anime is popular everywhere. What do these Mofu Mofu Girls represent?
Yui: Mofu Mofu means fluffy and cuddly in Japanese. Each MFMF Girl is an avatar of a fluffy and cute animal who is seeking adoption from animal lovers. This collective art series is inspired by Japanese popular culture "Girls anime/Shojo anime(少女アニメ) " and "Kemo-mimi(獣耳/けもみみ)". As one of the most popular Japanese cultures, "Shojo Anime" has had a rich history in Japan since the 1960s. "Kemo-mimi" (first depicted in Kabuki play in the Edo period) is also one of the most well-known "kawaii/かわいい" iconic expressions, which is deeply rooted in Japanese culture and used frequently and repeatedly in Japanese anime and manga works. We would like to show these Japanese cultures to the world.
Chris: Apart from this, the Mofu Mofu Girls NFT also supports a charity. Please tell our readers more about your charitable initiative.
Yui: The whole idea of this project is to raise awareness of animal protection and welfare & show our respect to people who are working and volunteering in this field. 10% of the profit will be donated to the World Animal Awareness Society. We hope more people will pay attention to animal protection around the world.
Chris: That sums up the NFT motive very well. So, what does the anime artwork look like? What are the key differentiating characteristics?
Yui: Mofu Mofu Girls is a unique NFT collection consisting of a rare combination of distinct hand-drawn traits: animal ears, hairstyle, eyes, mouth, clothing, accessory, legendary traits and background. 8,888 MFMF Girls NFT represent 12 different types of cute and fluffy animals: bear, fox, cat, dog, goat, rabbit, koala, tiger, deer, leopard, ape and unicorn. The unicorn and lucky cats are the legendary animals in the collection.
Chris: Do you also have some rare tokens that can be purchased at a premium price? How does one identify the rare NFTs?
Yui: There are four 1:1 special MFMF Girls NFT and 8 Lucky-cat girls in the collection. Lucky cat (Maneki-Neko) is a traditional Japanese figurine that is believed to bring good luck to the owners. 8 Lucky-cat girls represent Blessing (福), Wealth (金), Luck (幸), Longevity (寿), Love (愛), Great fortune (大吉), Billion (億), Success(成功). We also have legendary traits such as Unicorns, Japanese traditional clothes/hairstyles. All the special/rare ones are randomly mixed in the collection and will be minted at the same price.
Chris: In addition to this, the investors want to make sure they have the latest news. What are your official communication channels?
Yui: Discord: https://discord.gg/bJZ2VPPYwK
Twitter: https://twitter.com/mfmfgirls
All information will be updated in our Discord community including Roadmap, Community Trust Funds, Whitepaper, etc. Please join us to stay up to date.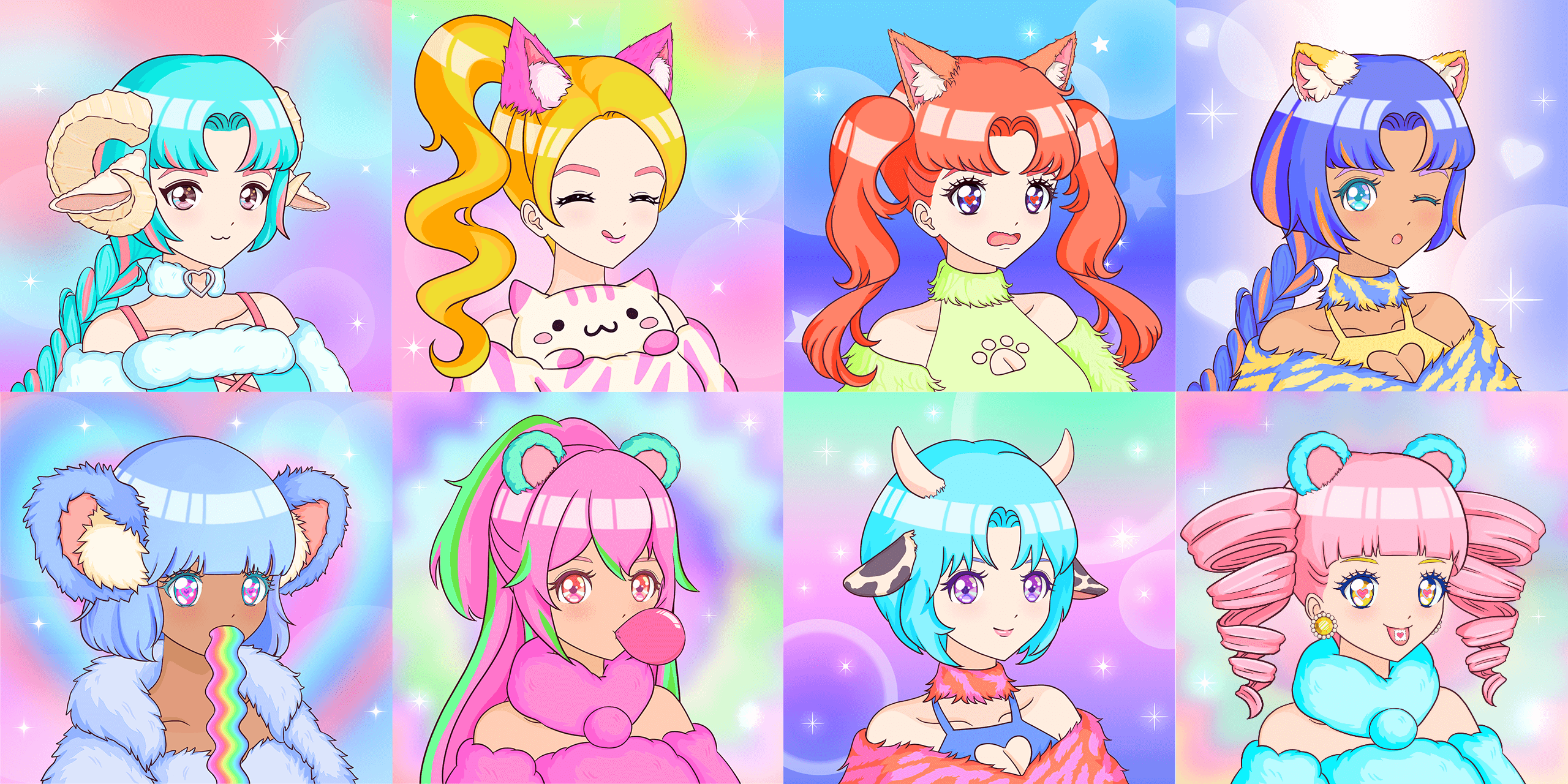 Chris: Speaking of pricing, what will be the expected price of each Mofu Mofu Girls NFT at public minting? How much would be the gas?
Yui: Pre-sale Date: 3 APR 02:00 UTC
Pre-sale Discount Mint Price: 0.05 ETH
Public Sale Stage 1: after Pre-sale - #5,555, Mint Price - 0.06 ETH
Public Sale Stage 2: starts from Jun 2022, #5,556 - 8,888, Mint Price - 0.08 ETH
We just decided to give a discount price for the Pre-sale Mint of 0.05 ETH to show our appreciation to the fam who are here to support us from the very beginning. For the Public Sale, we will end the 1st stage after we sold item #5,555 with a discount price of 0.06 ETH. We will hold the second stage until Jun 2022 (#5,556 - #8,888) when the market is getting better. We are trying to give the best to our family. The benefits of our community members are always our top priority. The gas would be around the standard market rate. We will try to reduce it as much as we can.
Chris: We noticed that you have an all-women team. Right? We would love to know more about the team members and their contributions towards Mofu Mofu Girls NFT.
Yui: We are a women-led project. Most of the team members are girls. Our artist Miko is very talented. She is capable of creating many different types of art. She started Oil Painting at 7 years old. She is passionate about Japanese cultural history and contemporary art studies, and always trying to explore the possibilities of new artistic expressions. For Mofu Mofu Girls, she has followed the classic anime style of drawing but also added modern elements to make them stand out. All of us are animal lovers and anime fans. Check our website to learn more about the team.
Chris: Finally, please devise the minting process here in the interest of your potential investors.
Yui: 1. Head to Mofu Mofu Girls website. Please ONLY use the official link to mint. mofumofugirls.com
2. Wait for the countdown to end, then click Mint Now to start minting.
3. Connect your Metamask wallet.
4. Choose how many MFMF Girls NFT you would like to mint. The total price will be shown after you choose the amount.
5. Click Mint Now to get your MFMF Girls NFT.