Kareem is Bit Hotel's head of partnerships. He is a clinical psychologist by trade, is a true digital native and has been active in the blockchain & funding space for many years to provide Bit Hotel best industry connections for ensuring success.
Chris: Bit Hotel NFTs are designed to form NFT items and currency as a part of the game. Is that correct?
Kareem: To answer that question, it's good to first understand what Bit Hotel is:
Bit Hotel is a Social-first Play 2 Earn NFT Gaming Metaverse, in which users will be able to use Bit Hotel tokens to acquire native NFTs and participate in decentralised governance. These NFTs have in-game usability and consist of characters, hotel rooms, furniture and other artefacts that have their own perks. These NFTs consist of varying rarities and can be traded on the open market. Users will be able to meet and chat with other players, compete on our various ever-changing mini-games, and battle their way up the global leaderboard to earn in-game assets. Users will be able to use their rooms to host small gatherings and as their own personal social hub. DAOs and communities will have club houses; in which they can host AMA's, organise IDOs, and other communal activities. Bit hotel offers users authenticity, anonymity, and the reminiscence of their 8-bit upbringing.
Checkout our Bit Hotel Teaser here
Chris: How NFTs will be used?
Kareem: Players can collect and trade all sorts of Bit Hotel in-game NFTs and redeem them using earned in-game tokens. The Bit Hotel consists of rooms, characters, furniture and other artefacts, and these are all NFTs. Users can show their NFT characters throughout the whole metaverse. All native NFTs have perks based on rarity (e.g. earning and staking multipliers). They can use their rooms (land) to host events, minigames, and build out their Bit Hotel experience. Lastly, our NFTs function as networking incentives; the characters will function as "keys" to certain public rooms, through which they can get exclusive access to communities and events such as IDOs, auctions, conferences, providing unique rewards and perks to people that expand their network.
Chris: How many Bit Hotel NFT Rooms are going to be released? What do the tokens look like? What are the features?
Kareem: Our Metaverse land consists of rooms in all shapes and sizes, we currently have 13 different designs ranging from common to epic rarity. We've already released the first season of playable NFT Characters, which sold out lightning fast! We will be selling a grand total of 4000 rooms divided over 50 floors. We will be holding the world's first IROs (Initial Room Offerings), starting from January 19th with Babylons! Every other day a different INO Partner will sell floors of our Bit Hotel. Ultimately, it will also be possible to buy the rooms through our own NFT Marketplace. The date of our Marketplace launch will be shared soon, so watch our Official Channels closely! You can join our social (Twitter and Discord ) so as not to miss new updates.
For a more detailed look at our first IRO with Babylons check out this Medium Article!
Also check out our official NFT Land Sale Trailer here!
👇 Don't forget to sign up for our Babylons x Bit Hotel GiveAway! 👇 https://bit.ly/babibth
Chris: Impressive, do you have a rarity chart? How does the investor know about the common and rare Bit Hotel NFT Rooms?
Kareem: We have 6 rarities for our NFT.
- Common
- Uncommon
- Rare
- Super Rare
- Epic
- Legendary
Prices vary by room size (expressed in tile amount) and rarity. The higher the rarity; the cooler and intricate the design and the higher the earning multipliers. One of the main utilities prior to game launch, will be the staking multipliers - these are being released together with the roomsale.

Each room functions as a chat room wherein you can hang out (with voice and text) or trade with other players. Next to that players can battle it out in one of the mini-games that can be played publically or hosted by room owners to earn token rewards.
Chris: Great, so when can one buy the Bit Hotel NFT Rooms? Do you have a purchase limit? What is the minting cost of each token?
Kareem: We're thrilled to partner with Babylons and will be launching the first NFT room sale on January 19th, 2022. Half of the NFTs will be offered in $BTH, at 25% discounted. The price of $BTH will be calculated based on the liquidity pool at the time of sale! The other half of the NFTs will be offered in BUSD. The sale will be on a first come, first served basis! Thus, there is no purchase limit, but be aware: our NFT Characters sold out in seconds!
The Rooms will be pre-minted. Prices will range from 200 to 23,000 BUSD!
Chris: Furthermore, how can I mint my Bit Hotel NFT Rooms? Please explain the entire process.
Kareem: On January 19th, you will be able to purchase our NFTs at Babylons, in this particular case you will receive a placeholder NFT, after which the real NFT will be airdropped to your wallet. We will be holding an IRO Road Show, meaning that a large variety of launchpads will be hosting our sale, the details may differ per platform. You will be able to purchase NFT Rooms from our own NFT Marketplace. Watch our Official Channels closely to stay up-to-date on when our Marketplace goes live!
The final stop of the roadshow is our own marketplace! We will have a wide range of floors available. Pick an area of the hotel of your liking and press view floors to get an overview of the available rooms.
Make sure you have BNB ready (for gas fees) as well as BTH to purchase the land. All our NFTs will be tradeable on any marketplace that supports BSC, more on this soon.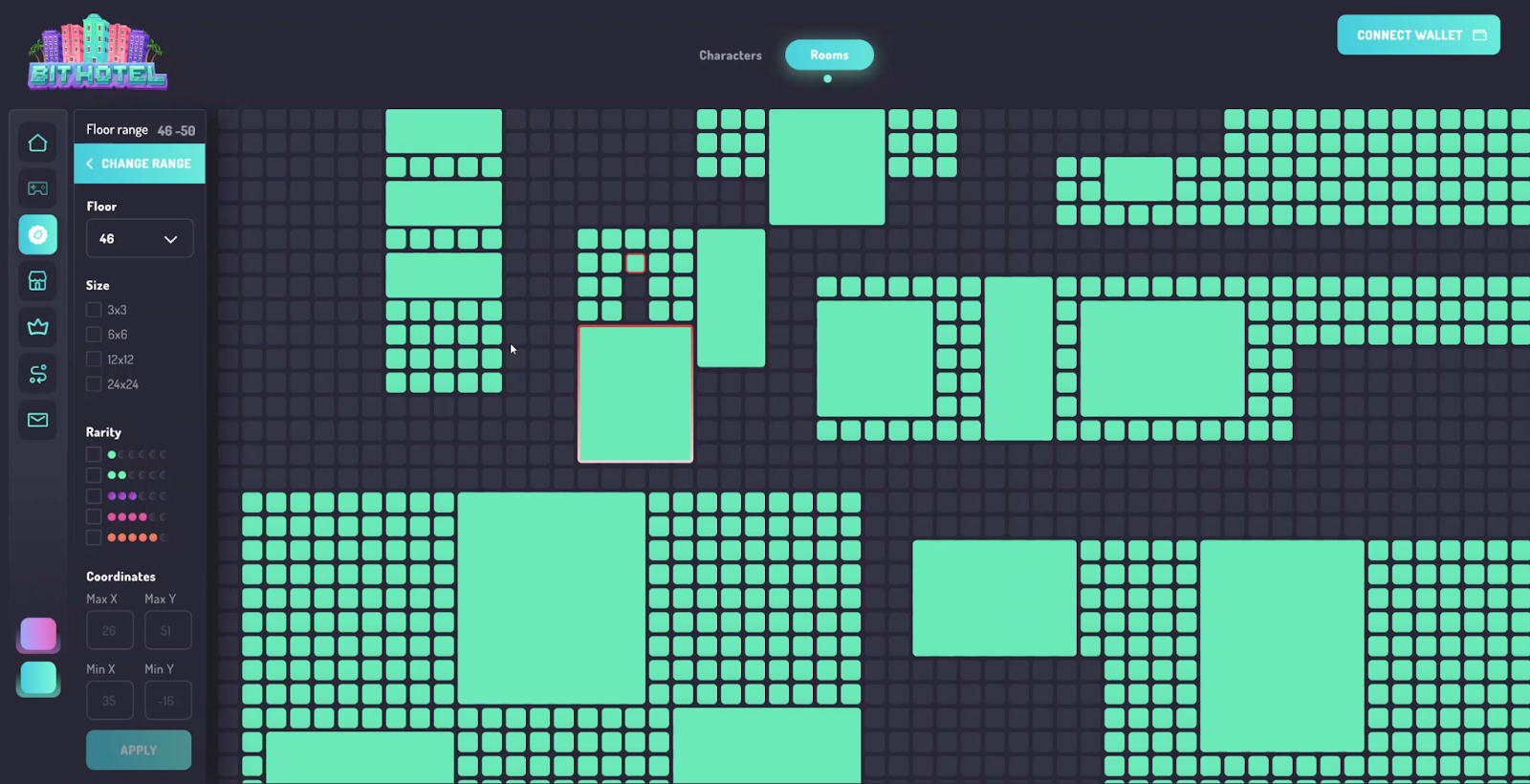 On the left hand side of the dashboard you'll be able to change the floor, filter by room size and rarity or find a specific part of the hotel by filling in the coordinates (if you want a room next to one of your friends, for example). After you purchase a room you can upload an image to show it's yours, this image will show everyone you are the legitimate owner and are moving in!
Chris: The Bit Hotel ecosystem has a marketplace, a socialization room, staking, scoreboard, and many other features on the play-to-earn portal. How does the investor sign up for these benefits?
Kareem: In the first few versions of the game we will have a "freemium" model, this is to attract new players and allow you all to test and feel the game without having to invest.

In order to use the full capacity of the Hotel, you would need a NFT room and character. This would immediately give you access to all the features that the Bit Hotel has to offer; socialization, staking, play 2 earn, leaderboards, renting, hosting and visiting events.
Chris: Can you elaborate about the social aspects of the game?
Kareem: We see a huge gap in the market when it comes to social & community aspects on the blockchain. Currently, the only viable options are either Discord or Telegram; this mainly has to do with both the anonymity and accessibility that those platforms have. However, we are not able to express our authenticity, we all have very cool online usernames and profile pictures; but there is no immersive audiovisual component that does justice to our individuality.
The majority of the demographic using the blockchain belongs to generation Y, who grew up with those classic 8-bit graphics. In the Bit Hotel metaverse, we try to give every user individuality and an in-game identity within that 8-bit nostalgic charm. Practically, users will be able to purchase NFT characters & rooms, in which they can invite their friends, host small gatherings and use them as their own personal social hub. They will be able to decorate their rooms with furniture, NFT artwork, and other artifacts. We will also be selling conference rooms/ club houses to DAOs and communities; in which one could host AMA's, organize IDOs, and other communal activities.
Only members with a custom NFT character will have exclusive access to their particular conference room. Bit Hotel will also be a framework, on which established companies will be able to host their groundbreaking technology and create a collaborative process with interoperability between projects as that is the beauty of blockchain. We want to make Bit Hotel as accessible as possible, our metaverse will therefore be mobile compatible too.
Chris: How does your P2E model work?
Kareem: The Play-to-earn model entails players competing with each other in all sorts of mini-games within Bit Hotel. There will be different mini-games on rotation. The winner of a mini-game wins $BHOTEL, this is an in-game only token - similar to tickets you would receive at an arcade. $BHOTEL is redeemable for all kinds of different NFTs, such as furniture. In addition, there will also be a leaderboard tracking the top players in the game. These players will be rewarded at the end of the leaderboard term with rare NFTs and token rewards. Lastly, by hosting and joining in-game events players can get access to custom NFTs as well as tokens.
Chris: Interestingly, you are backed by numerous partners. How do you plan to market the NFT in the interest of your partners and investors?
Kareem: Our marketing strategy is heavily related to our partnerships, we have allocations designated for KOL's, we have had launches through a variety of launchpads, and the VCs that we have provide us with some excellent connections in terms of marketing, and connections to DAOs with substantial communities. Our partners will be helping us with our community engagement, exposure, and ultimately will form the beginning of our user base.
It is no secret that great marketing requires great investment. We have a substantial marketing fund to help us reach a very broad array of potential investors and players. This will help us maintain our exposure, and branch out to reach users who have not entered the metaverse domain yet. Our game is designed to be very accessible, and have a low barrier to entry, thus very attractive to new gamers.
To top it all off, we have an unbelievable amount of platforms lined up on which we can host our initial NFT offerings, all our NFTs will be playable and can almost be seen as an invitation to join the Bit Hotel metaverse!
Chris: In the end, how does the roadmap chart out for Bit Hotel NFTs after marketplace listing and complete sales of BitHotel tokens?
Kareem: We have some very awesome milestones planned. In Q1 of 2022; Staking will go live, fulfill our roomsale, beta testing the metaverse, and holding community reward events, followed by launching the first full version of the metaverse in Q2. During all these phases, we will be actively marketing Bit Hotel through our partners and KOLs.