Today we are sitting down with Humphrey, a Co-Founder & Project Manager of WonderWhale
Chris: The WonderWhales are on a mission to preserve the marine and coastal ecosystem. How did the team come up with the idea? What was the inspiration?
Humphrey: I have loved the ocean since I was a kid. But sadly, I've seen some pristine beaches that I visited in my childhood transformed into a sea of trash. I saw sea creatures like Turtles and Manta rays had some kind of plastics stuck on their bodies when I was scuba-diving, and colorful corals gradually bleached.
It's very heartbreaking to see it with your own eyes, and I want to do something significant about it.
In 2019, I met the other Co-Founder (i.e., Whalesaurus) in a workplace who got me into the crypto space. There I saw the potentials of NFT, its utilities, and sustainability to provide a steady stream of funds to support ocean conservations causes.
Our Lead Designer, Migaloo, joined us soon after, and WonderWhale was born.

(We will reveal our identity on the upcoming AMA session, so join our Twitter & Discord for the most updated news)
Chris: WonderWhales will conduct charity donations to save the marine ecosystems. Which are the organizations that form the collaboration? How do you plan to donate the money?
Humphrey: We've reached out to some ocean & corals conservations in Bali-Indonesia as a start. We are still detailing our collaborations; as soon as everything is concluded, we will announce them publicly.
We will carry out the donation every quarter (4 times in one year), and the total contribution will amount to 10% of our gross profit in the year. Below is the breakdown of our revenue streams proportion for the charity.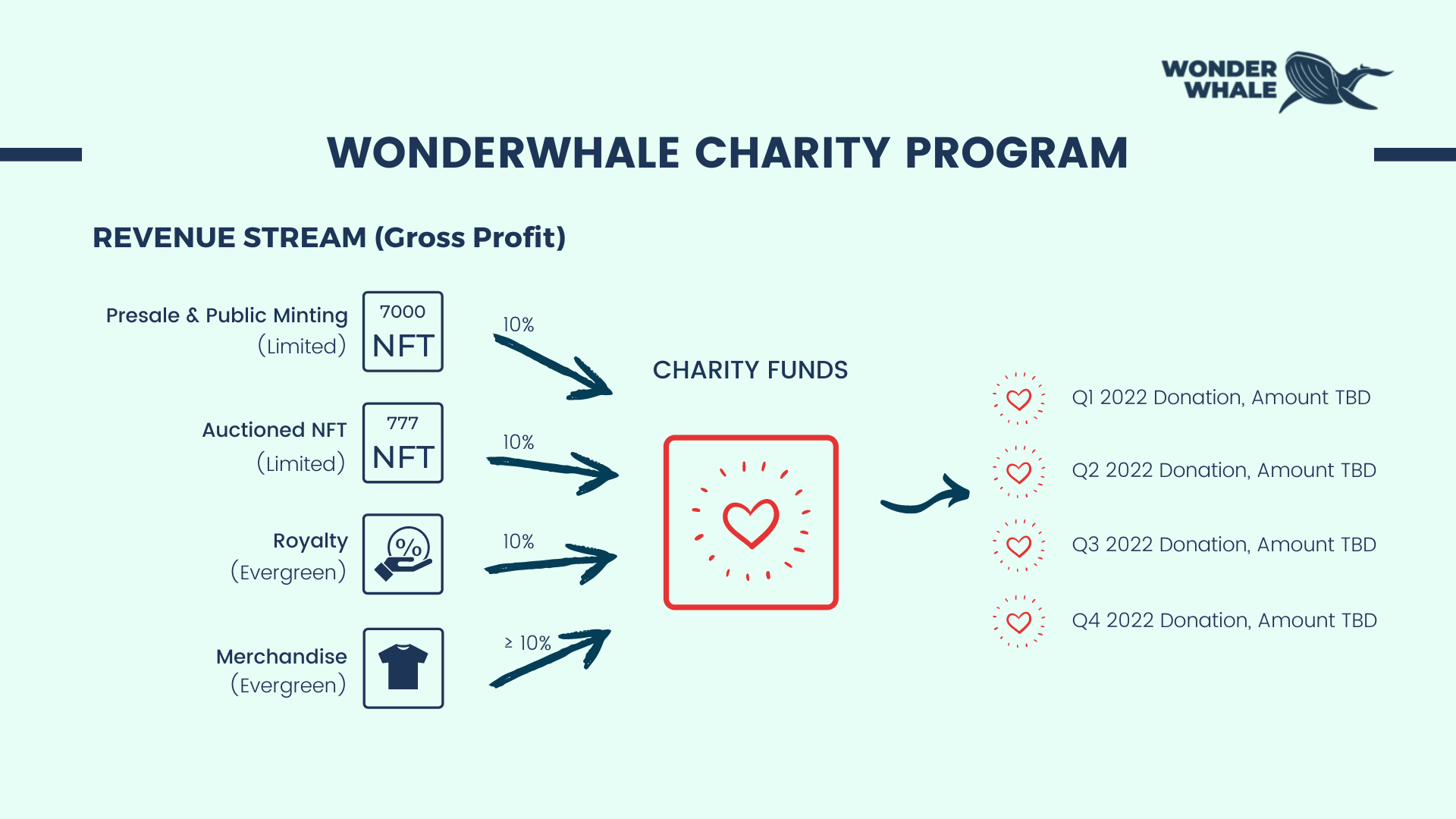 Besides the donation, we plan to partner up with an organization to release our merchandise sometime in Q3 or Q4 2022.
Chris: WonderWhale App is planning to stake 50% of the funds. How will this work?
Humphrey: We will stake 50% of the revenue coming into our Community Fund from the following streams.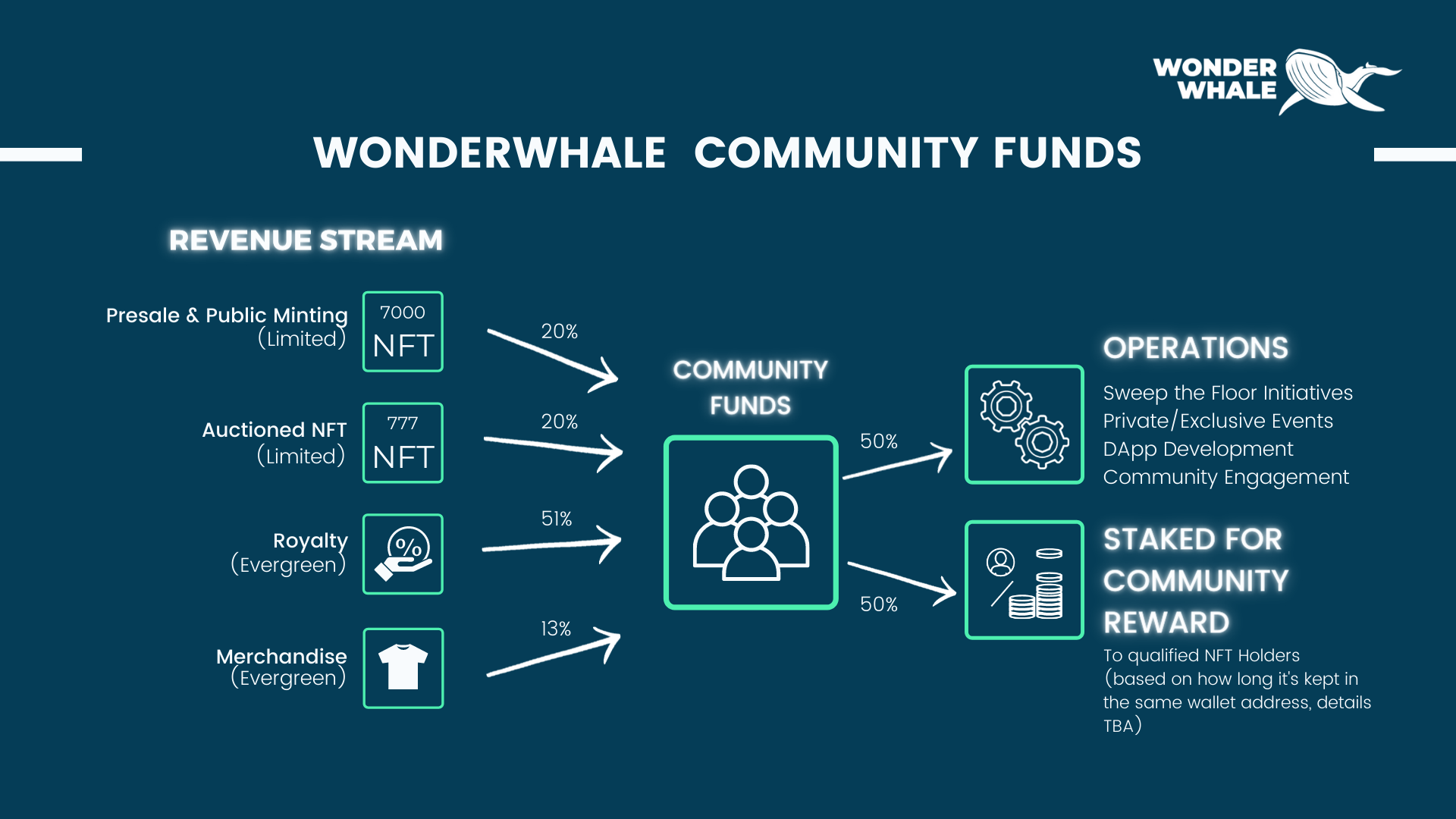 100% of the staking reward will go to each Qualified Holders of WonderWhale NFTs. "Qualified Holders" refers to how long a WonderWhale NFT is kept in the same wallet address.
Thanks to Cardano's low transaction fees, this can be carried out immediately in 2022, even if it's still manually disbursed until we have released our Decentralized App (DApp).
Refer to the example scenario below: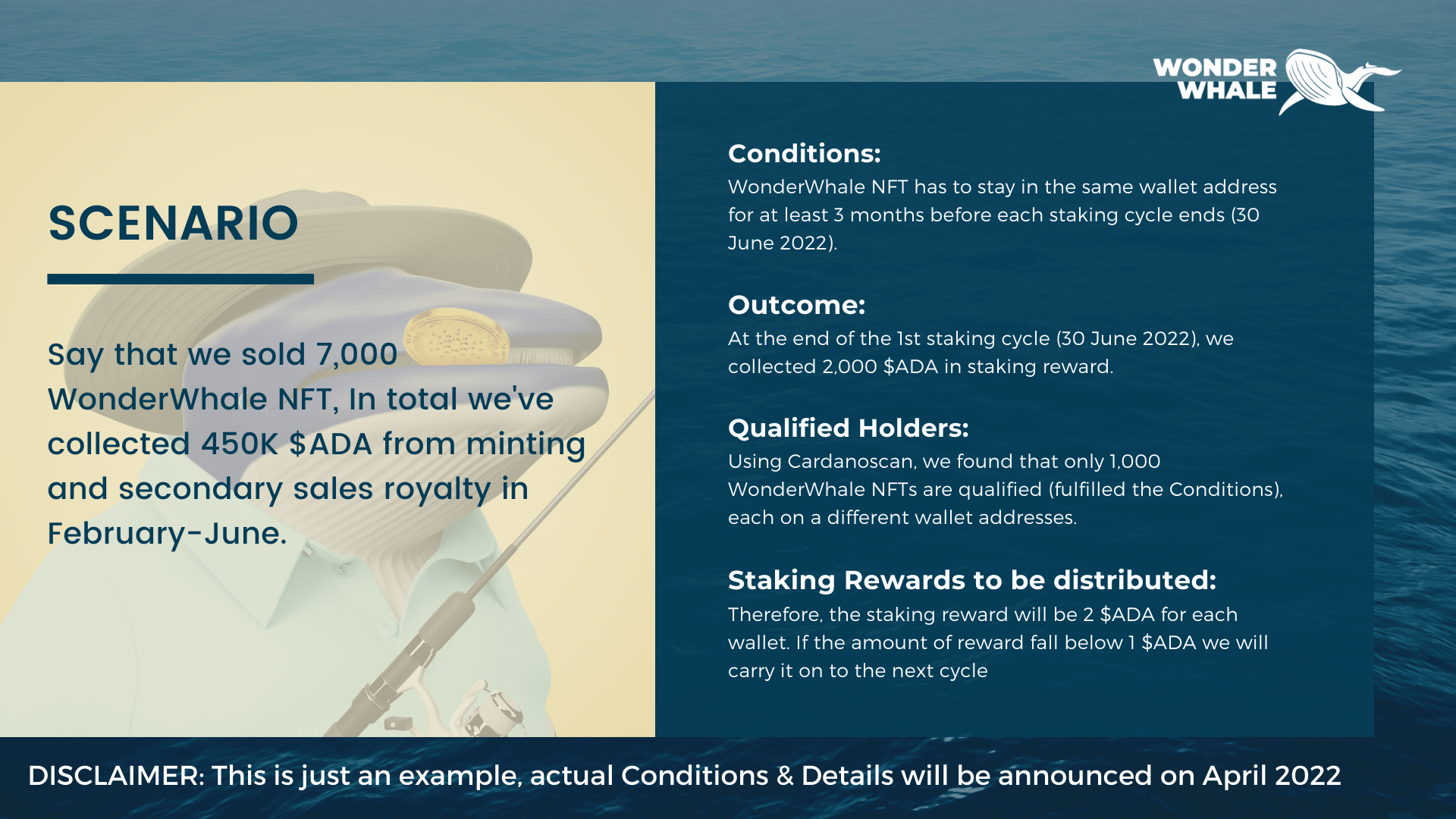 While NFTs minting revenues are limited, secondary sales royalty and merchandise sales are not. It's evergreen and lasts forever, so the staking reward will also grow in time as more ADA from the Community Fund is staked.
So even if 2 ADA in 6 months might not be that much initially, based on this scenario example. In time, the staking reward will increase gradually from the collected Royalty Fee and Merchandise Sales Revenues.
Chris: Furthermore, what other long-term value are you creating for your loyal holders of WonderWhale NFT?
Humphrey: Besides the incremental stake reward, we also plan to host a yearly private event in Q3 2022 and small-group social activities to bring our community closer and solid. Hopefully, the travel & quarantine restrictions have eased off and allowed us to come together by then. In addition, we're planning to host our first yearly private event in one of the beach clubs in Bali.
In 2023, we will launch our DApp, whereNFT holders can stake their WonderWhale NFT, propose and vote on ideas to implement.
Naturally, our WonderWhale community will become a DAO (Decentralize Autonomous Organization). Each NFT holder can decide on the future project roadmap and initiatives.
Chris: When do the WonderWhales NFT go up for public sale? What will be the minting cost for each NFT?
Humphrey: We have several Whitelist spots for Presale Minting on 12 February 2022, 11:00 UTC ranging from 44 to 55 ADA each. You can find more details about this on our Discord Channel.
The Public minting will be on 12 February 2022, 13:00 UTC, and 58 ADA to mint each NFT.
Chris: Moreover, what and when can we expect the release of the rarity chart for WonderWhales NFT?
Humphrey: Rarity Chart will be released on some websites like cnft.tools and also our website within 24Hrs after public minting.
We have 8 attribute categories from Background, Whale Color, Eyes, Headpiece, Mouthpiece, Necklace, Clothes, and Hand Items. In total we have more than 85 (and counting) different props to mix and match.
Chris: Additionally, do you also have a WonderWhale community? If yes, what are the benefits?
Humphrey: We have a lot of fun activities and programs in our Discord, like Trivia, AMA, meme-contest, and fanart with prizes to win, such as NFT Giveaways and Whitelist spots for different activities and participations.
You can also level up by being an active and supportive member to get a spot on Presale (starting from 44 ADA/mint instead of 58 ADA on public minting) before 12 February 2022.
But most importantly, you get to be a part of our warm and welcoming community and grow together.
Chris: Finally, how can I mint my WonderWhale NFT?
Humphrey: You can mint it on our website.
There are a few simple steps to follow:
Humphrey: Step 1: Ensure that you have a 'Shelley-era' Wallet like Nami Wallet, Daedalus, or Yoroi with sufficient ADA Balance.
Step 2: Go to our website , a button will appear on the homepage. Click on the button to proceed to the payment page.
Step 3: If you use Nami Wallet, you can connect it and complete the payment. If not, you can select 'Other Wallet' and send the exact amount of ADA to the wallet address displayed.
Step 4: Please wait 10 - 15 Minutes to receive your NFT in your Wallet.