As we find ourselves moving on in the year with the NFT gaming industry changing almost daily, we find ourselves chatting with Nick Cifonie, better known as "Deacon Z". Nick is the CMO and Community Manager of "Pepper Attack".

Chris: Let me start off by asking you for a 100 foot view of Pepper Attack. What is the 30 second, or elevator speech description of the game?
Nick: Pepper Attack is a new NFT-based strategy game that has been in development and in a steady growth stage for close to two years. We look at it more like a "play to own" game more than "play to earn". "Turn-based with a twist", I think Pepper Attack plays in a way that might be compared to Splinterlands, or even an automated version of Heroes of Might and Magic… before the buyout, lol!
Players can choose to travel through the Fantasy world either fighting monsters and the environment (PvE) with their best pick of NFT characters, or take on other players in player vs player (PvP) combat.

Players put forward their five best "Peppers", (chosen from multiple Pepper Attack NFT types) make a number of "pre-battle" choices that affect the results of the battle, and the battle then plays out before your eyes. The character strengths are determined by traditional role-playing attributes like hit points, evasion, defense, critical attacks, and more.

Winners are tracked and ranked on tournament leaderboards that last anywhere from 1 to 2 weeks, with the top 150 to 200 players sharing a pot of MYTE, the token that supports gameplay.

Oh! And with the "Genesis Reward Card" that just became available, the possible strategies have just increased greatly… did I answer that in 30 seconds?

Chris: Tell me about the Genesis Reward Card you just mentioned. What is it?
Nick: We're calling it the "Pepper card" for short. Other "loyalty programs" require additional purchases to receive benefits, but the Pepper Card rewards us with goodies just for playing. You also get points for purchases. It's faster that way, but it's not required.
It's really a no-brainer to get the Genesis Card… you get the card free, play the game, and over time earn at least three more NFTs, free potions and boosts, in-game perks and more. To get one, you just mint ONE Genesis Pepper NFT (available on Sept 5th) and the Genesis Card is included for free.

Chris: Is there a cost for the Genesis Pepper NFT? Is there a WL? Let's talk nitty gritty!

Nick: Yes, Chris there is. The cost for a Genesis Pepper is 0.06 weth on the Polygon blockchain, and like I said, you get a free Genesis Reward Card. The Genesis "Lady Peppers" are likely to become favorites. Their names are Leona, Kasin, and Asami, and will become available for Minting on Monday, September 5th.
Each has only 666 available, and 40% of the mint proceeds will go into the MYTE Liquidity Pool. They also each have a new, special skill they can activate in battle, and to celebrate the game launch, the lowest quality possible to mint will be "rare"... or blue. We normally have a "common" beige level, but not for this launch. Oh, you'll also have triple the chances than normal to get a gold Legendary Pepper as well.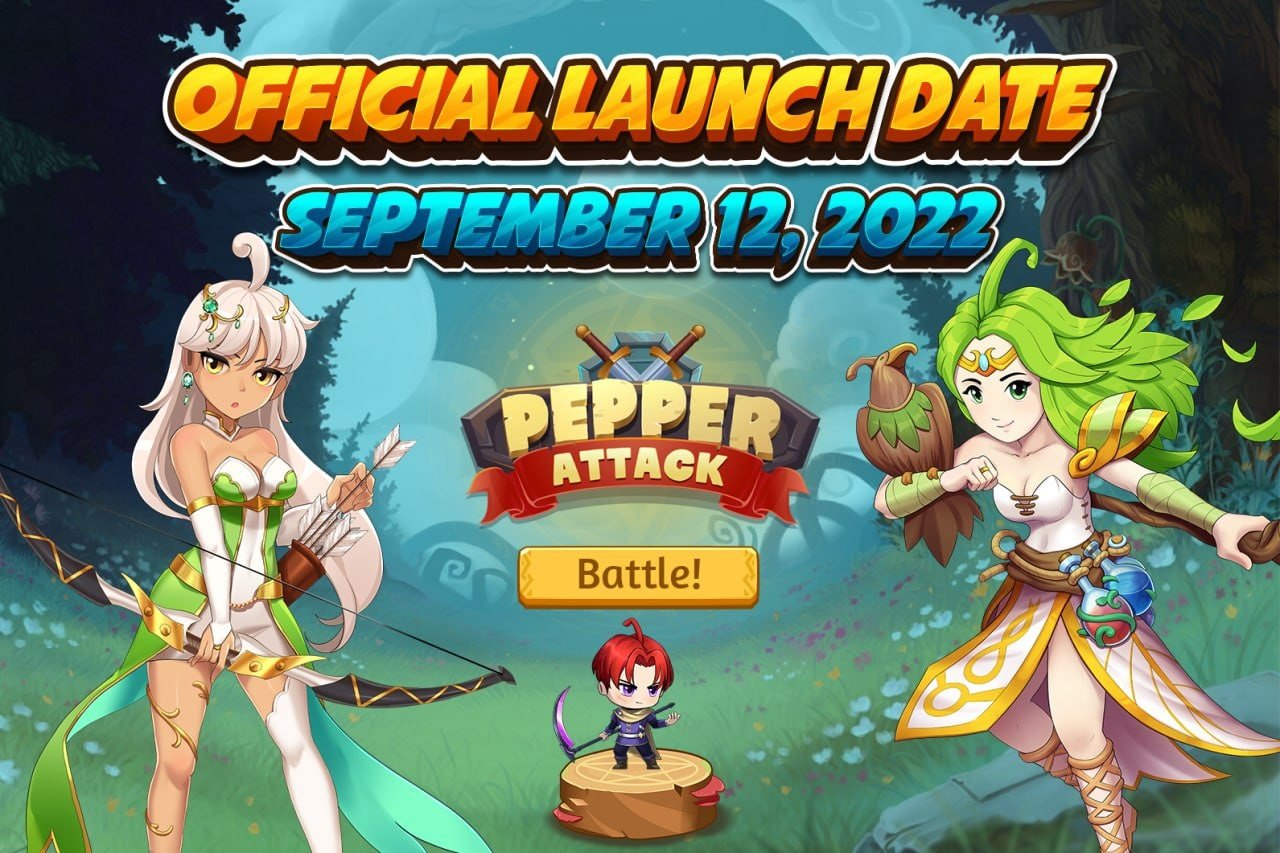 Chris: You shared that you want to create a "play to own" game, rather than "play to earn". Can you elaborate on this a bit for me?

Nick: Our community can definitely make some money playing Pepper Attack. It's just we hope they play because they want to… because it's a fun game they log into every day for the challenge and gameplay, not just to make a dollar. If we can achieve this, and we feel we have, the earnings will be there naturally because people will be lining up to play.

"Play to own" takes the position that you're playing the game because you love it… and you happen to end up owning the characters. It's a bonus, not the means. The "Pepperfam", as we call them, eventually end up owning the characters or even in-game items, potentially land in the future, and more. Our program will allow players to either invest in our NFTs to get a faster start, or use "soulbound" NFTs that we provide you to play with.

To be fair, players will advance quicker and likely further if they invest in more or higher quality Pepper NFTs, but for those with limited resources and some patience, the game is totally available. Start with the soulbound NFTs, earn and save in-game resources, sell them and invest in better and more NFTs… to play… and own.

Chris: You mentioned "multiple NFT types". What are the different types, and their benefits for the holders of the NFT?

Nick: Our first NFT was our "Mystic Pepper". The Mystic Peppers were released in early 2021 and are the only Pepper Attack NFTs that can "mine", In our world, "mining" is what we call staking, and the Mystic Pepper owners can earn up to 4500 of our token "MYTE" per month. There are 8,000 in total, and are only available on the secondary market. They can also be used in battle.

The "fighters" of the Pepper World are the "Pepper Hero NFTs", including the Genesis Peppers that are now available. All of our NFTs have the role-playing attributes that most gamers are familiar with, in addition to special skills. "Hero" NFTs are available on our website for 0.02 each, with five making up a full team.
Chris: It's always fun to be a part of an excited community. Do you have an active community?
Nick: We do! We've been developing the game for well over a year, and we have plenty of community members who have been with us from the beginning! I have joked in the past that we have people who know the details and our history better than I do. To be honest, it's not a joke, I sometimes ask them for the answers, hehe.

We have daily Poker games, play Karuta and Gartic together, and always seem to have something going on, like a contest or giveaway. I'd suggest that readers come join Pepperfam. They'll be in for a good time! Also, don't forget to join our Discord and Twitter. It is the best way to stay informed on news and announcements.