Today, we are talking to the founder of the Evolvens NFT Watch — Istvan Mezei. He is also the CEO of Evolvens Group Ltd., a watch brand founded in Hungary, Budapest. The Evolvens team loves exploring new territories and expanding their knowledge, however, they believe this time it was actually the NFT technology that found them, not vica versa.
Chris: What inspired you to create the Evolvens NFT Watch collection and what do you mean when you say the NFT technology found you?
Istvan: Shortly after founding Evolvens in 2016, we started developing an unequaled watch configurator which makes it possible for our customers to configure their own timepiece. Thanks to the layer-based technology, we can design and build countless different watches.
It's always been important for us to improve and keep up with the trends, and this approach allowed us to be open to the opportunities offered by the world of NFTs. NFTs are digital assets that are completely unique and unrepeatable, and this is true for Evolvens models as well. When we recognized this common feature, we decided to build a bridge between the world of watches and digital instruments.
This is what we mean by saying that the NFT technology found us.
Chris: What makes the Evolvens NFT Watches unique and different from other watch related NFT projects?
Istvan: While most NFT projects are simply digital images, we decided to go one step further in this area; the NFT configurations that we offer have physical equivalents.
Each NFT watch will be equipped with a QR code to make it easier for the holders to identify them. This will also make trading more convenient. It's important to know that there is no burning option in our project, so each NFT holder will get a real watch and they can decide to trade with it.
We get a lot of questions about why large brands do not make a project like this. The answer is simple: big companies are established to make large quantities of each of their models and because of this it's almost impossible for them to manage the manufacturing of a single individual timepiece. As a microbrand, we have the opportunity to implement a unique logistics and assembling solution to make these one of a kind collections.
Chris: How can the holders benefit from owning an Evolvens NFT Watch?
Istvan: First of all, they get a premium quality wristwatch with Swiss movement, sapphire glass, stainless steel case, pure metal dial and the list goes on. Moreover, if we look at the watch market, it proves that investing in a watch is always rewarding.
Though it may sound a bit surreal at first, it's true that over time the price of a popular watch can become much higher than its original price. This clearly shows that a high quality watch is already valuable in itself, and we realized that with the assistance of blockchain technology, it can increase its value even more.
Many people have wondered how an instrument that has both a digital and a physical counterpart can change owners. We reassure everyone that we have a solution for this. ;)
Chris: What are your main goals with the project and what did you have in mind when you created it?
Istvan: Nowadays as a microbrand it's challenging to build a valuable brand since large companies rule the market in general. However, we've seen several examples that with the right mindset and attitude, it's possible to reach significant results.
Our vision is to create a bridge between digital and physical assets that can be a rapidly growing market segment. This project will allow us to open new gates to reach the participants of the watch and crypto markets. We believe that everything is possible with sufficient willpower and endurance.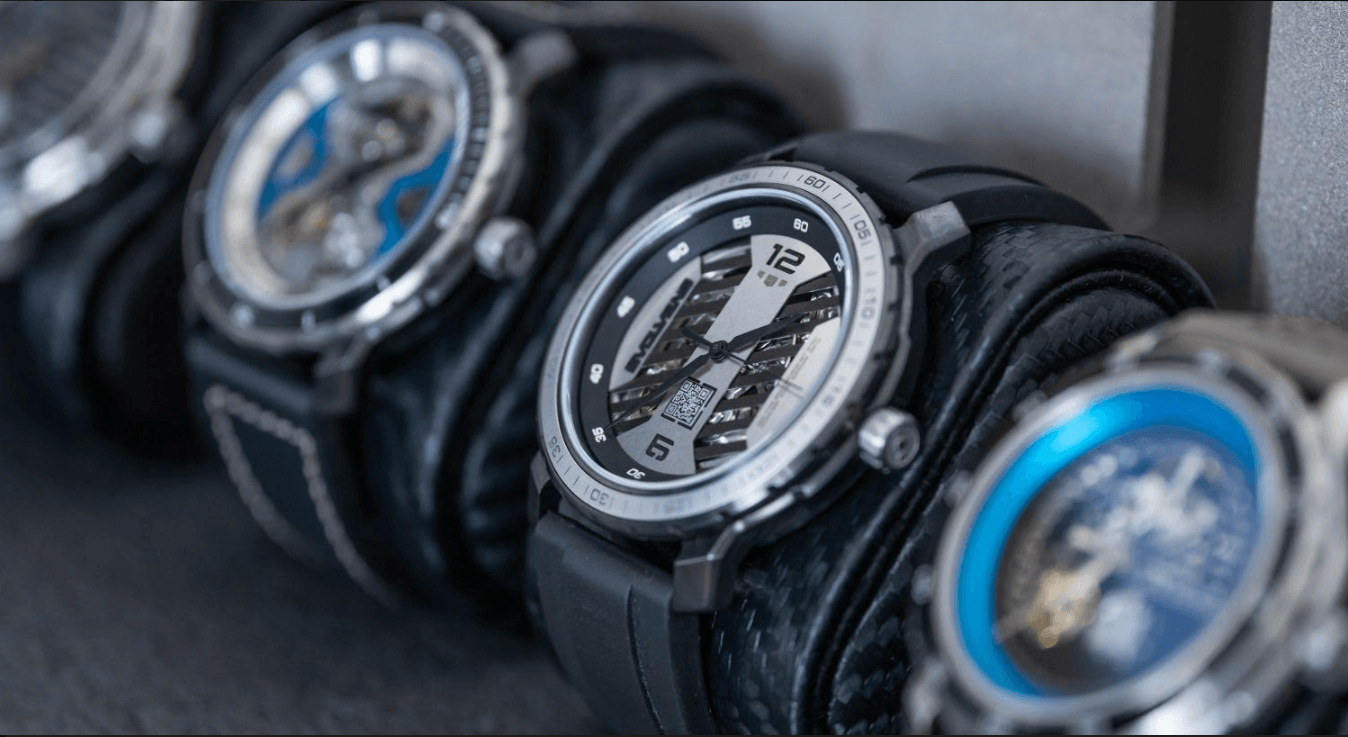 Chris: What will the watches be like? Can you share some technical details?
Istvan: During the designing process it was important for us to make such a timepiece that can stand out both technically and qualitatively even if the value of the tokens started to increase. This helps to ensure that the watches will technically endure the price difference and remain valuable even in the highest position - at 5-10 times greater price - of a potentially high-volatility token.
All NFT watches represent our main design elements such as sharp edges, stainless steel dials with vibrating blue parts, and brushed surfaces. Since the exact look of the watches will be visible after the reveal, we wanted to create the most colorful and vibrating configurations to make sure everyone finds a piece that fits their personal taste.
You can find different examples on our social platforms, so everyone can check there what to expect. What I can tell you now is that you can find sophisticated models, among which there will be more extravagant and exclusive pieces.
Chris: How many tokens will be available in the collection and what prices can we expect?
Istvan: The collection includes 2000 unique NFTs running on the Ethereum blockchain. There will be rare, super-rare and super-super rare configurations. It's important to know that we will have dynamic prices based on the ETH-USD rate since we need to build the physical timepieces. Looking at the current rates, the mint price would be 0,8 ETH if we launched the mint now.
Hope ETH will be stronger soon. :)
Chris: When do you plan to release the tokens for minting? Also, will there be a presale before the public mint?
Istvan: We don't have the exact launch date yet, but we plan to release them either at the end this month (September) or at the beginning of October. There will surely be a presale, we have 200 whitelist spots in total - some of which are already taken - and those on the list will be able to participate in the presale with a 20% discount.
We share more info and updates about the whitelist and the upcoming important dates on our social platforms and Discord server. You're still early, so don't worry!
Chris: How do you feel about the project? What feedback have you received so far?
Istvan: It was really surprising that everyone we showed our project said that this is something else. No one has seen anything like this before and this is one of the reasons we want to push our limits and make it real. We feel we have the opportunity to create a project that could be one of those initiatives that play an important role in this industry.
Long story short, we're extremely excited about this project and can't wait to build the watches!