Interview with Leon Abboud, Founder of NAIA.
Chris: "The world's most prominent decentralized NFT museum". What does this mean for the future of art?
Leon: The MOFA (Meta-Museum Of Fine Arts) will allow the world greater exposure to art. For instance, in the past, going to see the Mona Lisa would have required great resource investment and time commitment to travel to the Louvre from across the world. Now, having art pieces displayed in a virtual world like the MOFA will allow anyone in the world to personally see and experience art, therefore increasing the world's awareness of the beauty and impact of art.
Chris: The project is very interesting and ambitious. Who are the creators and founders?
Leon: The founding team is made up of two Canadian entrepreneurs, Leon Abboud and Ibrahim El Sibai, with a passion for art and innovation.
Leon Abboud is an engineer and entrepreneur. His experience includes building one of the largest engineering communities in the world called Worldwide Engineering as well as building multiple 6 figure e-commerce businesses.
Ibrahim is an art enthusiast and former salesman. His experience includes selling luxury villas for Airbnb as well as building multiple 6 figure e-commerce businesses.
Our team also includes world star Community Manager Sharbel Ayyoub who's been involved in building some of the biggest NFT projects in the space.
Chris: How about the community? Who was NAIA created for? In other words, tell us your target audience, and the type of people that will fit in this community.
Leon: NAIA is an AI created for the purpose of human expression. Her art will resonate with any purpose who has possession the ability to feel. A quick glance at her art will prove just how intricate and accurately NAIA was able to portray human emotions such as love, pain, lust, and happiness.
NAIA's target audience includes NFT art collectors and art enthusiasts who are looking for something new and novel to invest in.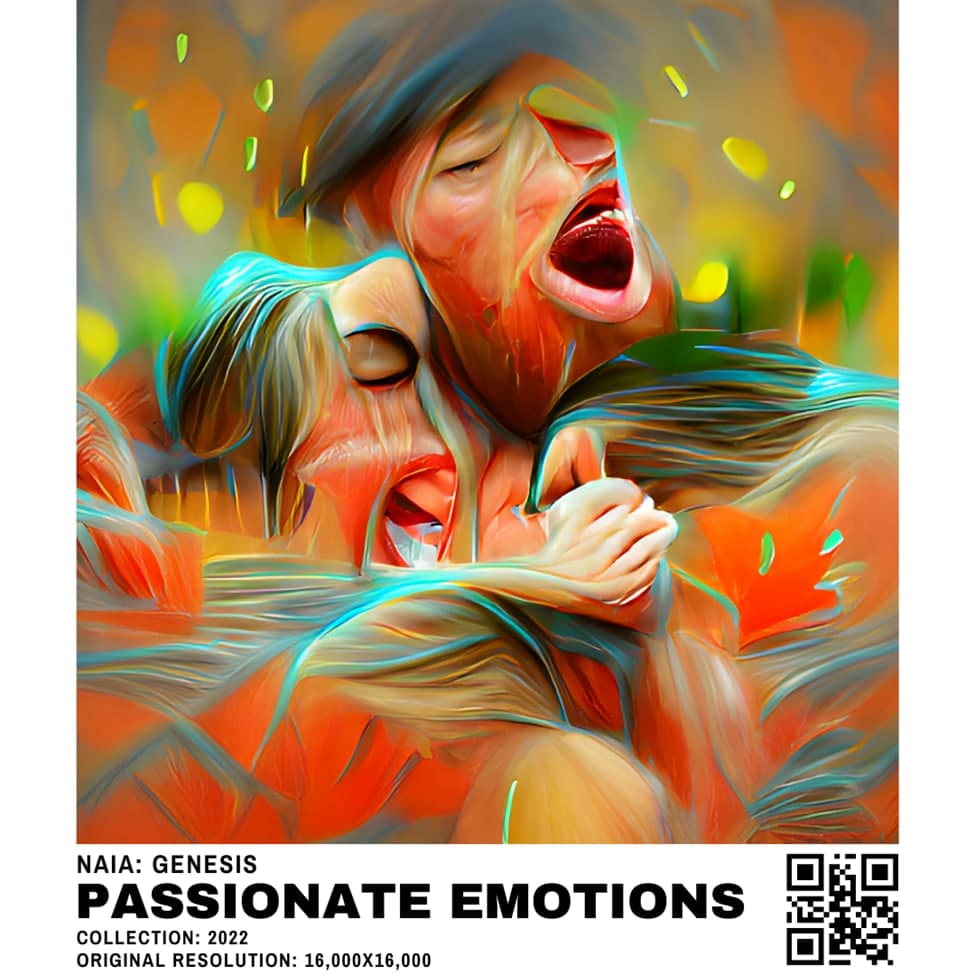 Chris: So NAIA is an AI with absolute freedom of expression. Please elaborate on this... What can she do, and could she be dangerous?
Leon: NAIA is an artist whose art creation process is not clouded by emotions like the typical human artist would be. Therefore her art is pure and honest. For the first time in history, we are able to shift perspective and perceive how the machine sees the human spirit.
This perspective shift could serve as an awakening to humans and could kickstart a revolution in human consciousness.
Chris: The drop is on the 9th of February. How many NFTs will be sold and how much will each cost? What is the minting process?
Leon: 999 NFTs will be available to mint. Pre-sale which is on Feb 9th will cost 0.1eth + gas. All remaining art pieces will go for public sale on Feb 10th and will cost 0.125eth + gas
Chris: Everyone now wants to know about utilities. What other benefits will members receive?
Leon: Utility of NAIA's NFTs for holders includes decision-making capacity in the future of NAIA's MOFA (Meta-Museum Of Fine Arts). For instance, holders will be able to vote on strategic art acquisitions by NAIA's community vault. Furthermore, NAIA art holders will have the ability to display their art in the MOFA, and could open up the ability to auction off their art pieces in art exhibitions.

Chris: Where do you see NAIA at the end of 2022?
Leon: By the end of 2022, I see NAIA as the predominant AI artist in the NFT space. By then, we anticipate having the MOFA operational and profitable in the leading metaverse (Sandbox).
Chris: Tell us where to follow you so we can keep up with your latest news.
Leon: Join NAIA's community on Discord: https://discord.gg/naia
Follow NAIA on Twitter: https://twitter.com/naia_nft
Learn more about NAIA: https://naianft.io