We are joined by Flume and 57Pixels — Creators of Uland.
Chris: Uland members can generate passive income through transactions on virtual land? How does that work?
Flume: That's the beautiful thing about owning NFT's in ULAND. Unlike traditional NFT's, in ULAND they are Land Assets (Utility NFTs), which means you earn $ULAND Tokens as rewards every time someone transacts our native token.

57Pixels: Yes, the amount of rewards you receive is based on the total population of the Lands that you own. Every time our $ULAND Token is transacted, 2.5% of that transaction is reserved for Land Holders and is split according to the population of your Lands.

Flume: You can buy multiple Land Asset NFT's in ULAND and the total population of all those Lands will determine how many rewards you get. PLUS just like other NFT's your Lands will go up in value over time and you can sell them for a healthy profit, or hold onto them long-term.

57Pixels: All Lands follow a hierarchy model, just like in the real world. Say for example you own the USA. You earn rewards the following way:

1) As flume mentioned: Through transactions of our native token.

2) Distribution Rewards: Every single state that is sold underneath the USA, you get 5% EVERY SINGLE TIME each state changes hands.

3) You can sell your Land Asset NFT at any time and you can set the price.

For full details of our Tokenomics and Rewards model please check out this Infographic and our Whitepaper: uland.io/Whitepaper.pdf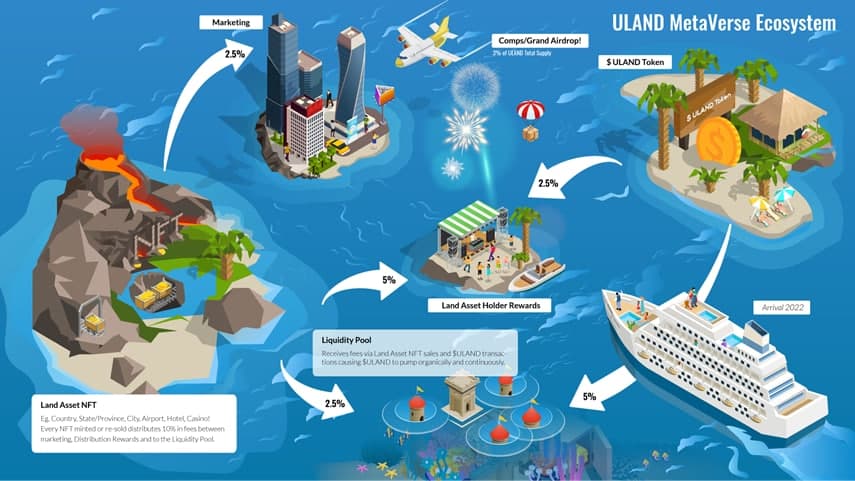 Chris: Why did you decide to go with Binance Smart Chain?
Flume: We originally intended to deploy on the Ethereum Network, but decided against it because we felt the Gas Fees were too high. This was a major barrier for entry for a lot of newcomers into the NFT/Crypto space.

57Pixels: We felt it wasn't fair to Mint a Land Asset NFT for $100, but then potentially pay $200 just in transaction fees.
Chris: U$129M paid out in rewards. Please tell us a bit more about this.
57Pixels: That's an amazing figure and was all part of our design. We really wanted to reward people for joining our MetaVerse and let early investors see their ROI (Return of Investment) very quickly.

Flume: 129M in $ULAND tokens is approximately 1319BNB or $496,000 USD at the current exchange rate.

This figure is a combination of the above mentioned rewards for being a Land Holder, but also includes our revolutionary Refer to Earn program, which we built on the blockchain. You can go to uland.io/refer and generate your own unique referral link. Anyone who clicks on your link and then Mints a Land Asset NFT; you will get 10% of the minting price.
Chris: What are some of the utilities that are on offer in this community?
Flume: You need our native Token to purchase a Lands. Tier 1 Country Rulers also need our tokens to unlock their Tier 2 States/Regions/Provinces. They can also set custom Mint prices and adjust those prices according to market demand. This allows for greater control and flexibility on how you manage your Country.

57Pixels: This will eventually turn into a proper DAO model, where everyone in ULAND will get a say in policies and we eventually would like to create a voting system. Right now you can also give yourself a fancy title like: Admiral, Captain, Chief etc. You have a user Dashboard that allows you to see all your Land Assets and Rewards earned to date, plus many more features to come!
Chris: Uland has big plans for the future. Citizens buying passports, trade etc. What are your long term goals, and what do you aim to achieve?

Flume: The long term plan is to have a fully functioning GameFi MetaVerse with its own insulated, organic and perpetual economy, that will also have real world business applications. Because we are based on the real world and all lands are geographically mapped to current Countries, the potential is limitless.

57Pixels: We are in the process of finalising our V1 of the PTE Game that will take place within ULAND. So think of resources, trade and construction, which will add a whole new layer of activities, utility and investment opportunities + new passive income streams for our early adopters.

Flume: Citizens will be a game changer for us, because then we start inviting people en masse to join our world through minting passports. Thereafter they can play out PTE Game thereby benefiting themselves, but also benefitting all our Land Holders, because they earn rewards from activities performed within their lands.
Chris: Will there be a whitelist?

57 Pixels: Right now we don't have whitelist functionality for our Land Asset NFT mints. But something we are considering for future NFT's, which may not be Land Assets.
Chris: When is the next drop? How many NFTs will be sold and what will be the cost? Tell us a bit more about the minting process.
Flume: Next mint drop is happening on Friday 4th February 23.30 UTC. We will only have a max supply of 250 Tier 2's for this Mint drop.

What Lands are available for Mint will be a surprise as it's up to the Country Rulers to choose which of their Tier 2's they unlock. We will be doing Mint drops every week until our Tier 2's are sold out. Then we move onto Tier 3 which will be cities, so think New York, London, Sydney, Paris. Lots of awesome Land Assets NFT's still to come.
Chris: Where can we keep up with your latest news? Which platforms do you mostly use?
57Pixels: Discord is where all of the magic happens! We got a cool custom bot setup that announces recent Lands for Sale and Purchases. Also check out our Twitter for latest announcement headlines and for those people who prefer Telegram we have an announcement and community channel there as well.
For Discord https://discord.gg/YGc5tj4Nw3

Twitter: https://twitter.com/home
Telegram: https://t.me/uland_io