My name is Barry Resnik and I am a co-founder of Diversify Games, Inc. Along with Derek Gorney we oversee a small group of individuals that has deep roots in software development. As avid sports fans and gamers we thought it would be really great to create a sports ecosystem with no offseason and where you own the in-game assets. We also wanted to reward players based on their knowledge and strategy versus mastery of a game controller.
With this in mind, we began building-out our gaming engine in early 2021. As developers first, we primarily focused on our product and less time communicating our roadmap. We are now rounding out our effort and trying to organically build our community.


Chris: Leather Bucket Heads are NFTs supporting football Gods. Are you tokenizing football players by any chance? What is the idea behind the NFT?
Barry Resnik: Leather Bucket Heads are a salute to the game of football. It is art born of cuts and bruises, that show the harsh reality of the game. They are randomly generated NFTs that have utility in of themselves and can be used within GM Dynasty as in-game assets. As described in greater detail below, they include traits that reflect real-life football players. Rather than focusing on a specific player who could throw off their pads and walk off the field in a tantrum, we are focused on the spirit of the player that embodies all the aspects we love about the game. Grit, determination, heart!
Chris: Once I own the Leather Bucket Head NFT, I am entitled to locker room benefits. What are these benefits, please enlist?
Barry Resnik: All Leather Bucket Heads owners will be granted access to the exclusive Locker Room. An area within the website that allows our community to hang-out, share and even show-off.
Claim your highly customizable, virtual locker and put your personality on display. Each locker can be decorated with virtual trinkets and knick-knacks to create a one-of-a-kind look.
Visit and view your fellow Leather Bucket Heads lockers. You can even leave them a digital trinket and include a message.
Display and show-off your NFT portfolio. Your NFT gallery will automatically be linked to your locker.
Share social media links.
Message other Leather Bucket Heads owners
Displays GM Dynasty franchises and records. You will be able to brag and see how your fellow Leather Bucket Heads are performing in GM Dynasty.

Chris: When does the Leather Bucket Head NFT launch? What is the minting cost of each token? How much is gas?
Barry Resnik: Leather Bucket Heads are currently minting on the Polygon network. Price is 37 MATIC. We chose Polygon to make the Buckets Heads more accessible to a larger audience. Our goal is to get more people involved in a over making money.You can join our social (Twitter and Facebook ) so as not to miss new updates
Chris: Following the previous question, how is each leather bucket head unique? What are the rare features that one should look out for?
Barry Resnik: Leather Bucket Heads have rarity based on three categories of traits.
Visible traits: Backgrounds, face, jersey and helmet
Non-visible traits: Player position, college and draft position, Extra Special Unique Name (This will only show up in Our Game Eco System)
Traits upon import to GM Dynasty: There are over 8 performance traits that will be revealed upon importing the Leather Bucket Heads into your franchise.
If you are trying to find rare visible traits look for the lucky jersey, green facemask helmet and the Carl face.
If you are more interested in game play within GM Dynasty, a roster is always best built around a quarterback. So having a quarterback drafted in an early round is unique.
Chris: At the end of Leather Bucket Heads, what is the sport-driven ecosystem?
Barry Resnik: There is no real end to Leather Bucket Heads. They can be used within our gaming ecosystem called GM Dynasty. A play-to-earn platform that will appeal to savvy veterans and wide-eyed rookies. We will be launching our first sport, American Football, in early Q1 2022. As a special incentive to our early adopters, the Bucket Heads will carry enhanced traits which will improve performance in the Dynasty Leagues.
Chris: GM Dynasty is a play-to-earn ecosystem backed by the NFT. How does the NFT work within the game?
Barry Resnik: The GM Dynasty game offers multiple NFTs and different paths to "earn". Here is a brief overview of the entire game.
GM Dynasty is a play-to-earn digital sports management game where players can oversee a football franchise. Upon purchase of a franchise (NFT), owners can build and manage their player roster, coaching staff and front office to build a football dynasty. Franchise owners can earn by participating in competitive play or by simply owning assets within the game.
To start playing, simply purchase a customizable Franchise NFT. As an owner, you have the power to name your team, choose their hometown affiliation, select team colors and pick a logo. All Franchise NFTs are unique. Upon completing the customization process users will have their team assets revealed. All franchises will have a full roster of 53 players, 3 coaches and 3 GMs.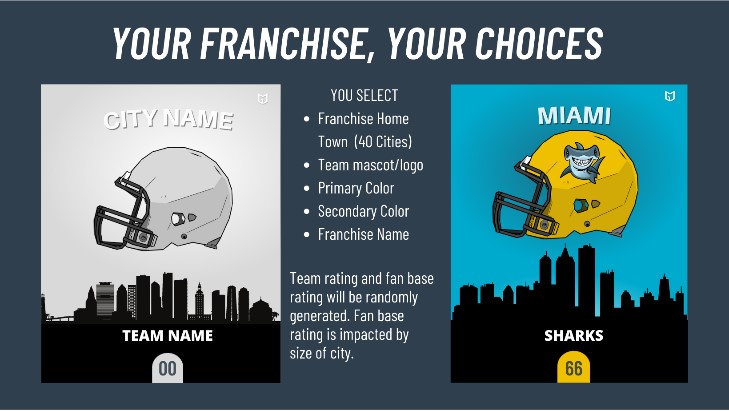 Franchise owners can engage in competitive play by entering leagues. At any given time, there will be multiple open leagues to join. Owners can select by league type, entry fee and/or skill level. There is also the ability to invite friends to engage in competitive play. League winnings/payouts will vary based on the league type entered.
Prior to the assigned game time, franchise owners will put on their "coaching hat" and select their game strategies. These decisions include setting player depth charts, determining base offense/defense and developing their offensive/defensive game plan. These decisions will have a significant impact on the game and the ultimate outcome.
Game play will be visually displayed as the play unfolds over a 12-minute period. Play-to-play results will be shown, and statistical information will be constantly updated throughout the game. In the background, the GM Dynasty game engine is utilizing information from over 3,000 variables to accurately mimic real-life football.
Upon completion of the game there will be more to see than who won or lost. All players, coaches and GM ratings will be updated based on their performance. Game assets will progress/regress in rating based on decisions of the franchise owner. Franchise owners also control if and when a game asset (player, coach, GM) is minted and an NFT is generated. When an asset is minted, the assets performance ratings are locked. The NFT can continue to be utilized on their franchise roster or sold in the open market.
Franchise owners will have access to game and player data to help shape their roster. In addition to developing their own players, Franchise owners can utilize the draft or acquire minted players to further enhance their roster.
Chris: How are the GM Dynasty tokens unique? Also, how are they different from Leather Bucket Heads NFT?
Barry Resnik: The GM Dynasty NFTs are completely different from Leather Bucket Heads. Think of them as a team and Leather Bucket Heads as a player on the team. We are currently minting Franchise NFTs @ gmdynasty.
Pricing of the franchise NFTs vary based on city selected or if user selects a randomly generated city. Entry price is $50
Payment is via ETH or PayPal
Franchise NFTs are minted on Polygon
All franchises are customizable
Chris: Interesting, so how do I get my franchise into the GM Dynasty NFT?
Barry Resnik: When users connect via MetaMask during the purchase process an account is created within our secure gaming platform. We use that "login" wallet to transfer their minted franchise. Anytime the user returns we reconnect with that wallet and can look for the presence of a Franchise NFT.
Chris: Furthermore, how can I participate in the play-to-earn ecosystem to earn real value assets?
Barry Resnik: GM Dynasty Economy
The team at GM Dynasty set out to build a platform that provides easy entry for both rookies and savvy veterans. We understand, to attract more players to the P2E ecosystem you need to overcome inexperience with crypto currency. We needed to provide familiar and accessible payment options. This means if you are unfamiliar with the crypto space we make it easy to get in the game!
FRANCHISE NFTs:
Franchises can be purchased using PayPal or Ethereum. When using Ethereum as a payment it will be transacted on the Ethereum Mainnet (no need to bridge funds to the Polygon Network). We are also breaking the mold by covering our users "hidden fees" that generally surprise people new to the space. GM Dynasty does not charge a gas fee for minting and will mint all NFTs on the Polygon Network. As with all block chain transactions, Franchise purchases are final and can't be reversed.
P2E: Franchises are owned and can be sold on the open market
FRANCHISE UPGRADES
Franchise owners can use PayPal, Ethereum or internal wallet funds (if available) to add upgrades to their Franchise. Pricing will vary based on the upgrade selected. Some upgrades will require the Franchise to have participated and won league games.
P2E: Upgrades to the franchises will increase rarity and in turn value on the open market. Some upgrades can be earned during play and winning games.

LEAGUE FEES:
Upon entering your first league you can choose to make payment via PayPal or Ethereum. GM Dynasty will collect your entry fee and hold these fees until the league is completed. All league payouts will be directed to your personal internal wallet on GM Dynasty. GM Dynasty wallet maintains the funds as an internal currency. The internal currency is intended to be a utility currency and used solely inside GM Dynasty. Users can request payout of the internal currency to their connected wallet in the form of MATIC or USDC (USD Coin). User must withdraw in a value greater than $50.
Users can also choose to utilize the funds in their internal wallet to pay for new leagues or for asset minting (described below).
P2E: Entering and winning leagues will provide payouts/winnings. Generally, the payouts are determined by the entry fees paid by the owners. As we move forward, we will include special events and sponsored events that will offer winnings without the upfront league fees.
ASSET MINTING
Franchise owners can use PayPal, Ethereum or internal wallet funds (if available) to mint in-game assets. Minting of players, coaches and GMs is solely at the discretion of the franchise owner. Minting pricing will vary based on the rating of that asset.
P2E: In-game assets (players, coaches, GMs) are owned and can be sold on the open market. Each asset within GM Dynasty is imbued with traits that influence their potential and ultimate progression. Progression arcs mimic real-life as some players get better and others wash-out. It is up to the franchise owner to get the most out of their players and maximize their potential. Key features of progression arcs:
The only way to know if a player will progress/regress is to have that player participate in games. Our gaming ecosystem rewards talent. The more you play, the better you are, the more value your team and players will earn.
The pacing of the progression/regression is variable and influenced by invisible traits.
Each position has different progression/regression arcs. Just like real life, Quarterbacks have a higher chance of washing-out versus offensive lineman.
Initial rating level will have a direct impact on progression arcs. A college superstar will have a greater chance of progressing than a low round draft choice.
Most importantly, game planning and strategy selected by the Franchise owner will directly impact the progression arcs.
Chris: Finally, what are my rewards and benefits as an owner of GM Dynasty NFT? Do you also have a community?
Barry Resnik: Yes, the goal is to build a thriving community for GM Dynasty Franchise owners. We have a robust roadmap that outlines a 3-pronged approach to development. These three areas include enhancements to GM Dynasty Football, expansion to other sports and development of limited edition NFTs.You can join our social (Twitter and Discord ) so as not to miss new updates
More importantly, our mission is to build a gaming ecosystem that engages, entertains and provides ongoing excitement. This will be achieved through:
Achievement: Managing and maximizing your player's progression. Building real value with in-game assets.
Reveals: Acquiring new players via the draft (it's like opening a pack of baseball cards)
Competition: Besting your opponent – with or without money on the line
Social: Creating an online community – sharing, bragging and learning to get better
Immersion: Watch as the game unfold. Gen 2 – better graphic display and watching events