This time around we are talking to ASnatchA - Project Lead, Passionate about crypto, NFT innovation, utility and gaming.
Chris: The central theme of Royal Flush Ape Club NFT is gambling. What is the role of Royal Flush Ape Club NFT in the gambling process?
ASnatchA: From the moment you mint your first Royal Flush Ape Club NFT, you're rolling the dice to score a high value card such as Queen, King, Ace, or Joker. Unique attributes such as hats, eyes, and skins also add to the rarity.
Once the minting stage is complete, we will be launching our staking platform where members can stake a five card poker hand. The rarer the hand, the higher the rewards.
Future plans include a casino where members will be able to utilize their rewards in a variety of classic casino games such as Blackjack, Poker, Craps, and more. Royal Flush Ape Club NFTs will also have a built in REDRAW function. If you find a particular card isn't useful in your hand or want to upgrade a floor card, use the REDRAW function to burn your card and draw a brand new randomly generated card from the deck. We're pretty excited about that feature.
Chris: So, apart from being a gambling token, how does the digital artwork collectible benefit the investor? In other words, what else will be the utility of the NFT once the investors buy a token?
ASnatchA: Just like the gaming aspect of Royal Flush Ape Club, we've kept the artwork very fun and lighthearted. Over 200 unique attributes such as eyes, hats, and clothing add to the rarity of the cards. A select few attributes are more likely to be found on higher value cards such as the King and Queen (ex. Crown). This means members can create a truly unique hand to share with the community or show off as a PFP.
Aside from being a shiny collectible, the initial utility will be the staking system. Access to the Royal Flush Ape Club casino will follow. And perhaps most obviously, we would love to create a physical deck of cards to be made available to the community. Members can bring the excitement of Royal Flush Ape Club home to your friendly card gaming nights.
Chris: Moreover, what will be the reward procedures? Would you like to share the rewards list here?
ASnatchA: By staking your Royal Flush Ape Club NFTs, you will generate $CHIP tokens based on hand rarity and duration staked. Essentially, classic poker hand rarity is the guideline. Hands such as Full Houses will be rewarded higher than a pair for example. If you have a moment, check out our Whitepaper (www.royalflushapeclub.io/whitepaper) for an in-depth breakdown of how the token rewards will be generated.
Players can stake between 1 and 5 cards in a hand. Higher rewards will be given for more cards in the hand, even if it doesn't affect the ranking of the hand. In addition, an Aces-over-Kings Full House would be rewarded higher than a Kings-over-Aces Full House. Players will be paid out with ERC20 $CHIP which can be used to purchase card redraws and can be used for gambling within the Royal Ape Flush Club. Future utility will roll out as the community unlocks gambling related achievements.
Chris: What is the design of the NFT? How are the 8888 tokens different from each other?
ASnatchA: The Royal Flush Ape Club is a first-of-its-kind NFT collection of 8,888 ape themed playing cards. Each Royal Flush Ape card is randomly generated using a combination of over 200 attributes such as eyes, hats, shirts, and more.
The rarity of the cards mirrors their value. Aces are slightly rarer than Kings, Queens, Jacks, etc. There are also certain traits, such as a crown, that are more likely to be featured on royalty cards. Every card is unique.
Additionally, we have 8 jokers that are unique and randomly dispersed throughout the deck. Jokers are wild and can be used to raise the value of ANY hand. For the time being, only classic poker hands are allowed (sorry, no five-of-a-kind). Once the casino has been unlocked, Jokers will offer further utility within the game.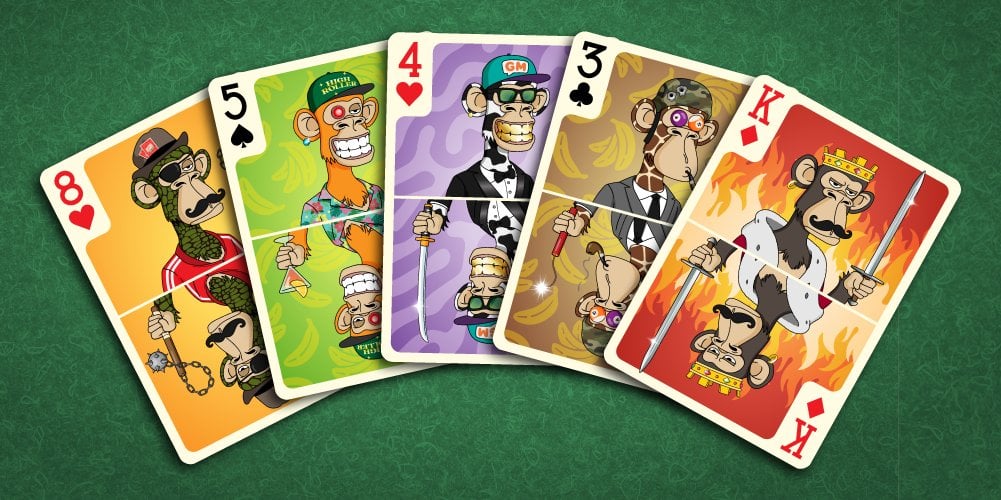 Chris: Furthermore, 1111 mints will be free. How can I subscribe to avail of free mints?
ASnatchA: That's right, the first 1,111 mints free. You only pay for the gas, which has been significantly optimized using an ERC721A smart contract. First dibs on the free mints go to our VIP members (Whitelist) in our Discord server. VIPs will be able to mint five cards 2 hours earlier than the general public. It's our way of rewarding our members who have been with us since the start. To become a VIP, join our Discord server and check out the "VIP List" channel for more details.
Chris: You have a dedicated team behind the formulation and creation of the idea of Royal Flush Ape Club NFT. We would like you to introduce your team here.
ASnatchA: Royal Flush Ape Club would not be possible without the help of so many along the way. Our core team includes:
ASnatchA | Project Lead
I've been obsessed with NFTs ever since I dipped my toes into them. The technology is amazing and we haven't even cracked the surface of it's potential. I have been trading and participating in NFT and crypto projects for the past 2 years. In my time away from NFTs, I am an engineer and manager and also have been playing poker part time for the last 15 years.
zapadaz | Web3 Developer
I've been coding since fifth grade and have always loved learning new things by trying to build them for myself. Instead of pursuing an education in comp sci, I ventured into physics and ultimately quantum optics. In the past decade I've spent a lot of my free time with neural networks and learning about the Forex. ASnatchA and I met while working on a crypto mining project and have been working closely ever since. I've been learning all about web3 and there's still a lot to know, but I'm all about learning as much as I can.
spelto | Art Director
With a background in animation, illustration, and design, I am always looking for new ways to expand my skills. I am incredibly excited by the opportunities that NFTs are creating for artists. Building a project like Royal Flush Ape Club has proven to be no small task but the feedback from the community has been incredibly rewarding. I have learned so much along the way and am excited to see how high this project will fly.
Chris: Before closing, we would like to know your plans for the future. What are some of the key milestones you want to achieve in the next 6 months?
ASnatchA: Future plans include:
● Launch of our staking system
● Initialize redraw functionality
● Launch our virtual casino in stages that get unlocked by community achievements
● Launch a merch store including a physical Royal Flush Ape Club deck of cards (community vote on cards that make it into the deck)
● Collaborate with NFT projects that share a similar aesthetic and vision
We hope you love collecting and gaming with our Royal Flush Ape Club NFTs as much as we loved creating them!