Mick Gow is a Founder of National Parks NFT. He got 20 years experience in product design for global tech companies & startups.

Chris: National Park is NFT collectibles is not a regular artwork or game NFT. How do the NFT's work with national parks?

Mick: Each NFT gives you access to an outdoor enthusiasts member club. As a club member, we have weekly product giveaways that range from National Park annual passes to camping/hiking gear, but also accommodations and experiences. We will also be hosting regular webinars where experts from the national parks and outdoor industry will talk and share knowledge, travel tips, etc. We will also be rewarding our NFT holders as they contribute to the community.

Chris: Interesting, what inspired you to develop these NFTs? How do the investors receive a piece of history and future? How does one gain some real-world experiences with this unique NFT?

Mick: The concept of national parks stemmed from the fact that everyone loves national parks - 230 million people visited US national parks in 2020. This love and passion for the parks immediately resonates with so many people. We wanted to build something that was more than a profile picture, something that connected NFTs with the real world. We aim to be the world's biggest elite outdoor enthusiasts community. Imagine being part of this community and owning the first-ever NFT that represents the national parks! We have 4,825 NFTs, each unique, but all having artwork of the characteristics of the 63 US national parks. Aside from the previous perks, we imagine setting up a lot of meet-ups in parks, and having some park members even live-stream to the community as they spend time in the parks.

Chris: What are the features of the NFT? How is each one unique and distinct from another?

Mick: Each artwork is based on one of the 63 national parks, then we have traits for the sky, weather, atmosphere, earth's core, some rare animals, and 5 hobby traits - camping, hiking, photography, nature, and road-tripping.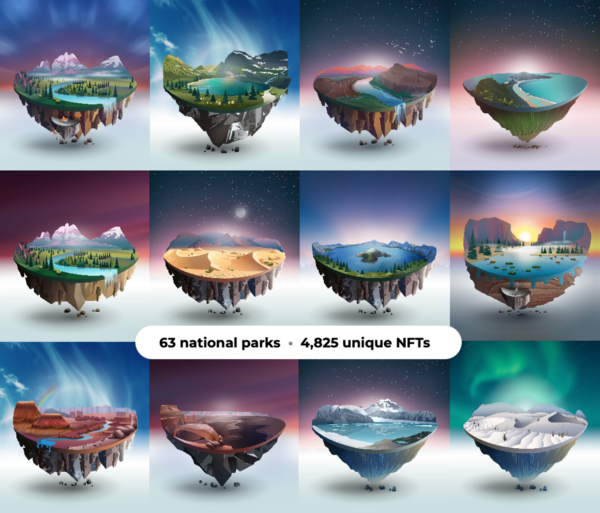 Chris: Additionally, what are the rare features of the NFTs? How do you define the rarities? Are they priced differently?
Mick: All these traits are aligned with giveaways, for example, one week we may have a giveaway for an astrophotography workshop and you may need the milky-way background and a photography trait to go in the draw. All will be minted for the same price. We have a higher supply of NFTs based on the most popular national parks in the US, while there is a smaller supply of less known parks, however the rarity traits mixed in make it more interesting.
Chris: About 4825 such NFT's will be up for sale. What will be the minting cost of each NFT? How much will be gas?

Mick: Whitelisted, each NFT will be 0.04Eth, and the public price is 0.07Eth. Items will be listed on OpenSea after minting. Gas will be based on Ethereum price at the time of mint.

Chris: Similarly, how do I buy a National park NFT?

Mick:
First mint via our
website
and look for the MINT button.
After mint you can purchase on
opensea
.
Chris: Finally, the project will support National Parks through its charitable initiative. Please provide more details on organizations you seek to support and how do you plan to do that?
Mick:
We have already raised and donated 11K for the National Parks Foundation via a whitelist fundraiser.
We will be contributing to the National Parks Foundation from proceeds after minting and providing evidence of this donation.
We will be offsetting our carbon footprint by donating to
https://offsetra.com
Ongoing we will have various fundraisers and evaluate who to donate to during these.