On this joyful day, my guest is Matthew — the founder of The Feral Pharaohs.
Chris: The Feral Pharaohs are now available for mint on the Polygon Network. What are these Feral Pharaohs? How did they come into being? In other words, what is the story behind their creation?
Matthew: Yes! Minting has been open for a little over a week now with over 620 minted and almost 150 members strong! I wanted to create The Feral Pharaohs as a community for the Pharaohs of the metaverse, for the ones that want to escape their domestication and live the life of a King.
Chris: So, these are artwork creations. What are the different traits that make each one of them unique? Also, how are the Feral Pharaohs different from the other artwork tokens on the metaverse?
Matthew: The Feral Pharaohs are made up of over 120 different traits broken up into 10 different categories. One of the traits is the Crook and Flail, a symbol of Ancient Egypt. The Crook represents Kingship while the Flail represents fertility of the land. This item was chosen as an accessory in the collection out of respect to the Ancient Egyptians as well as to allow a collector to show off their Kingship in the metaverse. Bringing the history of the Ancient Egyptians into the metaverse is something that is important to me as a first generation American with many generations of Egyptians before me. With so many projects being released, I hope my project differs by creating a space where the past and the future come together to build a Feral Dynasty.
Chris: However, why did you specifically pick the Polygon blockchain for your NFT collection? Do you get any gas benefits on the network?
Matthew: I was back and forth when trying to decide between which networks I should deploy my first collection on. While Ethereum is the most popular blockchain, it is known for high gas fees. I ended up choosing the Polygon blockchain for my NFT collection based on the price differences. I did this not only for myself but for the community I am working on building. Compared to ETH, Polygon has virtually no gas fees! Heading into the crypto bear market we are seeing, being more aware of how much we are spending on each transaction can make a difference.
Chris: The Feral Pharaohs are vibrant and quirky. Who is behind the artwork of these tokens? Additionally, who else is on the creative team? How does each one work towards the development of Feral Pharaohs?
Matthew: I drew the artwork for the project! The inspiration for the artwork came from my Egyptian family roots, something I am very proud of as a first generation American. When I was looking to create my first NFT project, I knew I wanted that to be something I touched on. Throughout the development of The Feral Pharaohs, I want to share some of the history of Egypt and my family through my artwork. As for my team, I am currently working on growing my team to help with expanding Feral Pharaohs into the metaverse. They will help with marketing and social media presence.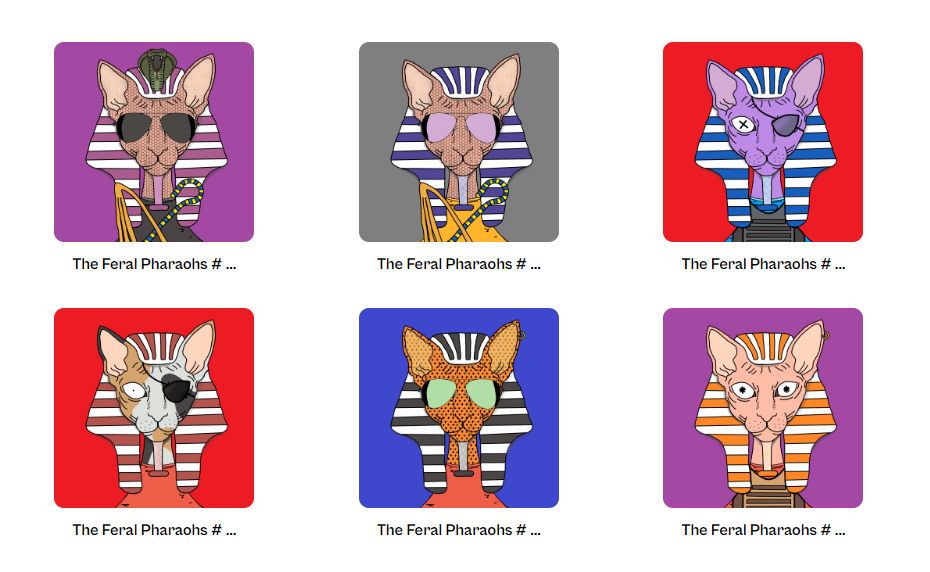 Chris: Chiefly, what will be the cost of one Feral Pharaoh's NFT? Also, do you have a limit on the number of transactions made by an investor?
Matthew: The cost of one Feral Pharaoh is currently 0.3 MATIC ( at the time of writing this the price of 1 MATIC is $0.36) . There is no limit to the number of transactions per wallet although an investor is only able to mint one Feral Pharaoh at a time. Good thing for low gas fees! For a limited time, if you mint 4 Feral Pharaohs you will receive 1 for FREE through an airdrop.
Chris: Specifically, what will be the minting process for the Feral pharaohs? To illustrate, please lay down a step-by-step process.
Matthew: Minting couldn't be easier using the links provided. Mintables.club is an amazing platform for beginners who want to get into creating NFT projects without needing to know any of the coding. Mintables.club creates a smart contract and deploys it onto the blockchain of your choosing. They then provide a minting page as well as a contract page where you are able to control your collection. Since the collection is on the Polygon network, you will need to take a few extra steps before you are able to mint. First, you will need to connect your wallet to the Polygon Mainnet, information on how to do this is readily available online if you search for "How to connect my crypto wallet to Polygon Mainnet". From there, you will need to purchase Polygon Matic, or bridge your ETH or other crypto to the Polygon network. This is also information that can be found online by searching " How to bridge ETH/crypto to Matic". This will cost a one time gas fee to confirm this transaction of bridging your funds. Once complete, you are ready to mint! Head over to https://www.mintables.club/m/the-feral-pharaohs and connect your wallet. If you connected to the polygon mainnet correctly and purchased polygon matic, you will be able to mint as many as you'd like! There is no limit to the number you are allowed to mint, although you are only able to mint one at a time.
Chris: At the same time, please share some of the important steps you want to take moving forward with the token and for the future?
Matthew: This is the genesis collection for the Feral Pharaohs. Genesis tokens will have added benefits throughout the growth of The Feral Pharaohs. I want to grow the community and allow genesis token holders to have a say in the direction of the project. I am working on a roadmap that will be released once the website is up and running. Just to note a few of the steps currently being looked into, I have started looking into Web3 integration through P2E games, future land sales to house your Feral Pharaohs, burn mechanisms to upgrade your Feral Pharaohs and staking benefits for early investors. There will be future collections released to continue to grow the Feral Pharaoh community.
Chris: In the end, we would love for you to share the list of giveaways and airdrops. What are your official communication channels?
Matthew: Mintables.club provides a members only board where I am able to share information and updates with the community. Mintables will verify that your wallet has at least one Feral Pharaoh before allowing you to see the updates on the community board. I am also in the process of creating a website as well as other means of communication channels. As for giveaways, I plan on integrating them throughout mint and continuing them as the community grows to keep everyone engaged. These giveaways will be in various forms such as NFT airdrops, ETH or MATIC deposits and allowlist spots for future drops.