Chris: Hi there! Please introduce yourself.
Joe: Joe aka Chips, Marketing / Relationships Manager. Has a successful background in Business Management, Customer Relations and a guru in Accounting.
Chris: Plastic Pollution Turtle Coalition NFT is an artwork NFT that is aimed at helping out with plastic pollution in the oceans. What is your story of inspiration for this particular NFT development?
Joe: Having lived near the beach nearly my entire life has given me first hand experience in noticing a real problem our world is facing and will continue to face if nothing changes. The amount of plastic waste that ends up in the ocean is dangerous to our planet and is killing a variety of different species of animals. We decided that turtles would be the perfect representation that reminded others about how plastic is destroying their homes. They are slow and helpless creatures whos biggest enemy is unfortunately us.

Chris: By owning a PPTC NFT, the investor becomes a part of the solution and not the pollution. How do you make that work?
Joe: By minting 1 of our NFT's, you made a contribution towards cleaning our oceans. 20% of all minting revenue and 50% of all secondary market sales will be donated to charities dependent on a majority vote between NFT holders. Owning a PPTC turtle is a sign of true support towards fighting the never ending pollution problem.

Chris: You have a presale and a public sale. How does one sign up for the presale? How many tokens will be available in the presale?
Joe:
There are many ways for people to qualify for pre-sale. The most common way at the moment is through multiple giveaways that we are hosting via our
Twitter
and
Discord
! A good way to increase your chances for getting a spot in whitelist is being active in our
Discord
and paying attention to when we host giveaways. For the presale, we have decided to allocate 1,500 NFTs. This presale will be available to 1,000 people who can mint up to 3 PPTC NFT's. Once the 1,500 NFT's are sold out, the remaining 3,500 will be available for the public sale.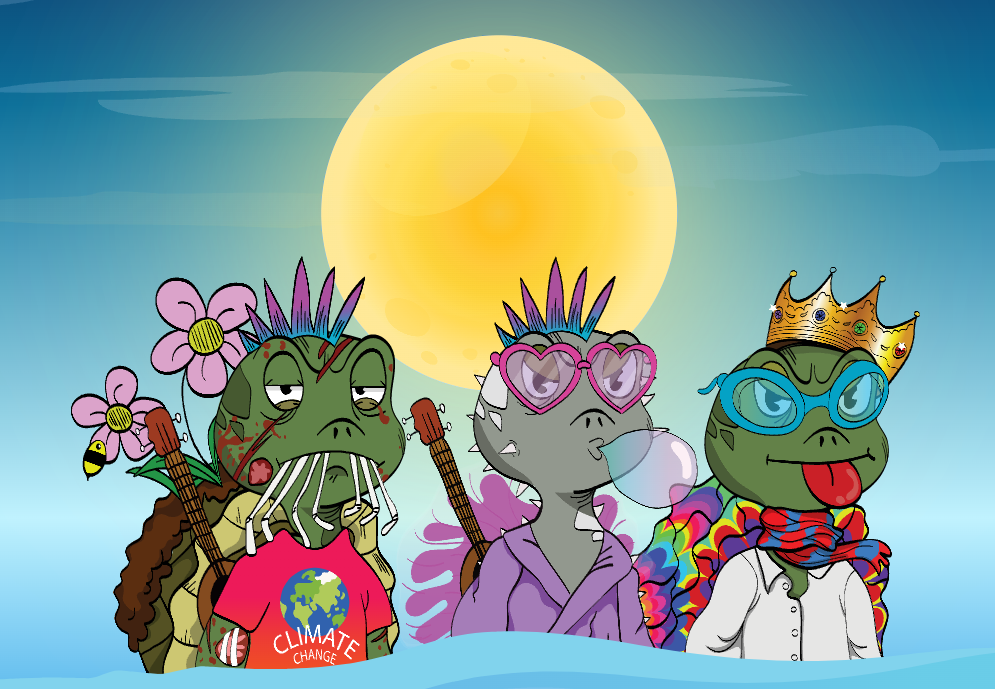 Chris: So, when is the public sale? How many NFTs will be sold in the public sale?
Joe: The public sale will commence 2 hours after the pre-sale which is on February 11th at 1 PM EST. The public sale will have all of the remaining NFT's available for minting totaling 5,000 unique PPTC NFTs.

Chris: Furthermore, what will be the minting cost of the PPTC NFT at the public sale? How much will be the gas?
Joe: The price for the presale will be 0.08 ETH per NFT and 0.1 ETH per NFT for the public sale. We have optimized our contract as much as possible to make sure our community doesn't have to spend an absurd amounts of gas fees.

Chris: What are the different features of these turtles set out to save the sea? Which of these features will be rare?
Joe: There are 9 unique features:

1 - Background
2 - Skintypes
3 - Shell
4 - Eyes
5 - Mouth
6 - Hat
7 - Hairstyle
8 - Outfits
9 - Back
We will announce the rarity of every feature on the day of release. We already have posted sneak peaks on our social media and discord of some of our turtles. There are some features that only appear on 5 turtles out of the 5,000 making those features extremely rare.
Chris: Additionally, do you also have a rarity chart? How do the investors identify the unique and prized ones?
Joe: We will be partnering with websites that will show the different rarities of the NFT you own. Our community will be able to easily access information about their NFT or any other NFT in our collection. We have also designated 3 turtles to receive a large ETH prize if you're lucky enough to mint one of those.
Chris: In conclusion, what are the other issues you wish to address through these NFTs? What is your plan for the future?
Joe:
Our project is different than most projects. We have strategized and planned for the future. Our secondary market sales are 100% used for two purposes and two purposes only.
1 - Further community and project development
2 - Donating to charities
With only these 2 goals in mind, we will be able to grow and expand. This will further benefit our shareholders through our DAO treasury and community events while also continuing to make a different to our planet. Roadmap 2.0 is already being developed and prepared.