Non-fungible tokens (NFTs) have turned out to be one of the biggest discoveries of 2021. This innovation is bridging the gap between the crypto and art world, and has also led to the birth of NFT visualizers.

Since this is a new trend, there are not many NFT visualizers available to artists at this time. However, one can expect this to change as more artists and virtual gallery companies wake up to the growing demand.
Table of Contents
What is an NFT visualizer?
An NFT visualizer is any tool that allows artists and collectors to display NFT artwork in a way that provides a more immersive experience.
These tools are vital because NFTs primarily exist as a token on the wallet of users. Beyond viewing the artwork on NFT marketplaces or on their wallets, there is little to no means available for holders to connect with the collectibles they purchase.
An NFT visualizer is also a way for artists to bring all of their collection in one place. It provides an experience similar to museums or physical galleries where visitors can closely interact with artwork before deciding whether or not to add it to their collection.
Types of NFT viewers
Interactive Displays: This refers to a customized display unit that NFT artists can design to give users a physical connection to a collection.
An excellent example is the I Miss You NFT visualizer pioneered by audiovisual artist Vino Naso and Swedish craftsman Love Hulten.The solution combines two Raspberry PI computers and a hand-crafted metal frame with an analog button and dial control that allow users to freeze and scroll through the artwork.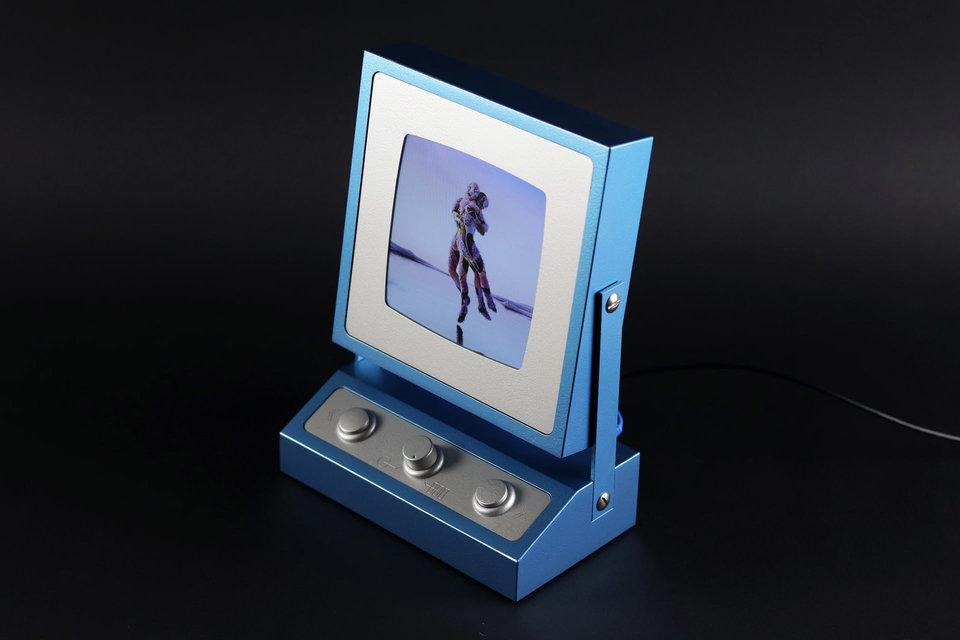 Although this is an entirely customized solution, it provides needed inspiration for artists that want to provide a physical element to their NFT artwork.
NFT Virtual Galleries: Virtual galleries are akin to galleries in the real world. The only difference this time is that the gallery exists in a virtual world and fans must get on with the virtual world to interact with the collection.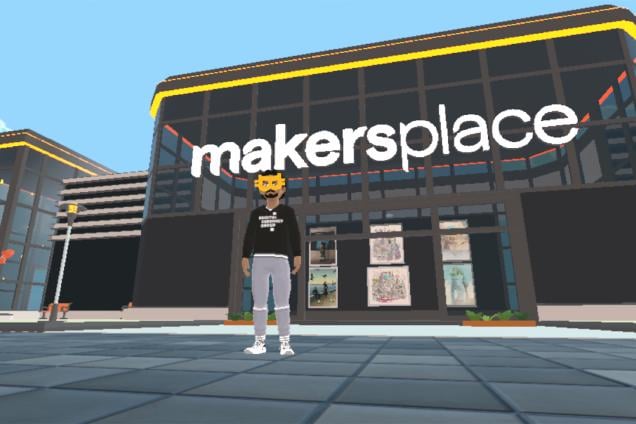 Both collectors and artists can create virtual galleries in blockchain-based virtual worlds such as Decentraland and Cryptovoxels. These solutions allow users to tour the gallery in the Metaverse, view displayed NFTs and even place an order for their preferred artwork or collection.
Aside from the blockchain, there are also existing virtual gallery platforms that now allow NFT enthusiasts to host their collection. Some of them integrate virtual and augmented reality features to offer an enhanced experience.
Best NFT visualizers
1. Mynt
Mynt brands itself as a place for users to "show-off and discover world class NFTs." The platform is free-to-use and provides a home for both collectors and artists, allowing them to list individual items or bind them together in a single collection. Visitors can open and view NFT items on the website interface with a further option to view listed items on popular NFT marketplace, OpenSea.
On Mynt, there is a list of top collectors, collectables and most viewed galleries. Users are required to link to their social media profiles and connect a Metamask wallet to their account to display their collection. Popular NFT collectibles currently listed on Mynt include ., CryptoBabyPunk, Cool Cat, and Incognito.
2. Spatial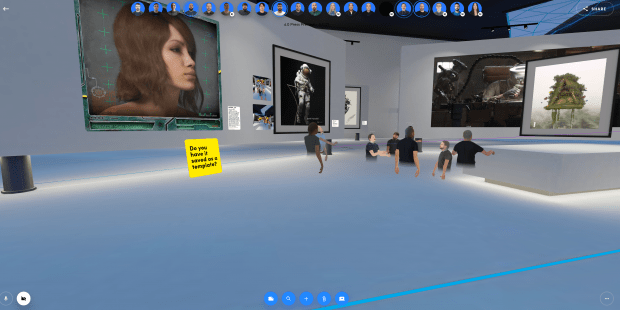 Spatial is a popular 3D workspace application that uses virtual and augmented reality to offer a superior experience. When interest in NFTs exploded earlier this year, the startup reportedly noted that many artists were using its platform to create virtual galleries and interact with new audiences in real-time.
Spatial relied on this demand to improve its platform to specifically cater to the needs of NFT collectors and artists. For instance, Spatial introduced a new default gallery environment, a Metamask integration, and a description panel for users who upload art to their galleries.
All of these new features make Spatial one of the best NFT visualizers, especially for artists looking to recreate a thorough immersive experience for fans and collectors. Although the platform has a free version, creators with large audiences require a Pro Account to maximise the available features. There is an extensive guide linked here from Spatial on how to show off your NFT virtual gallery using their platform.
NFT Marketplaces, OpenSea and SuperRare already own NFT virtual galleries on Spatial.
3. Unstoppable Domains NFT Gallery
Unstoppable Domains is a service that allows crypto holders to replace normal alphanumeric crypto addresses with a simpler URL that uses the .crypto, .coins, .nft extensions. For instance, instead of using 0x….. Ethereum addresses, users can simply buy a domain that users "theirname.crypto." Others can then use this simpler name while sending coins from a wallet that supports the Unstoppable Domains service.
What does this have to do with NFTs?
Unstoppable Domains recently launched an NFT Art Gallery feature that also works as an NFT visualizer. Users who purchase a domain from the platform will get the chance to display their NFTs to others using their customized URL on supported browsers such as Google Chrome or Brave.
To initiate the service, users have to connect their Metamask account to their .crypto domain. Once a connection is established, the service will fetch NFTs held on the wallet and display them on a cleanly displayed interface on the URL.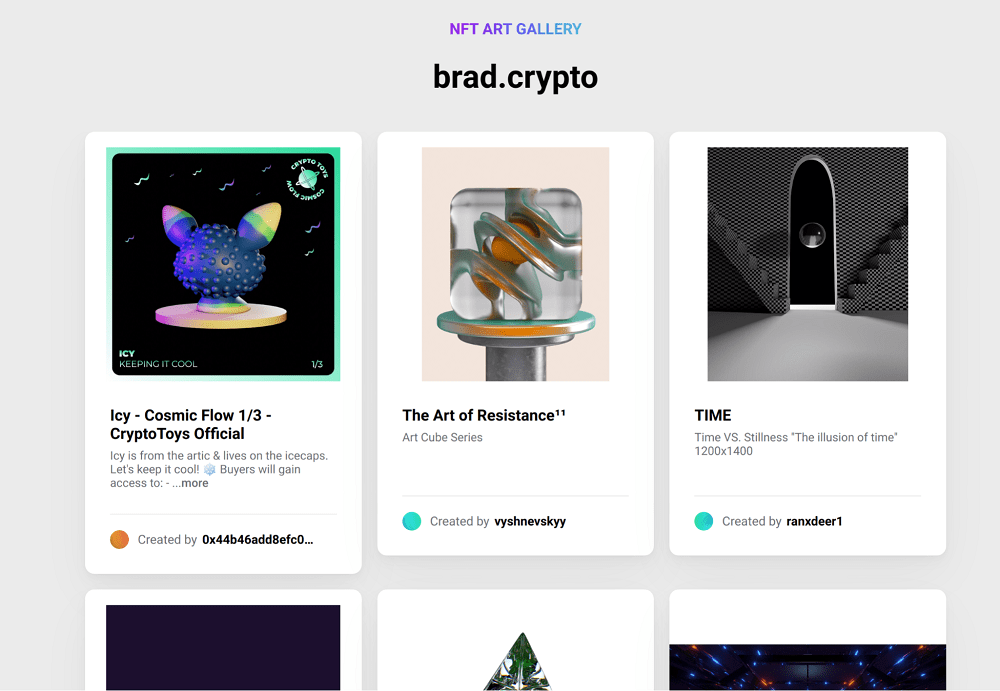 Worth noting is that although the NFT art gallery service is free, an Unstoppable domain can cost anywhere between £570 ($800)-£4400 ($6000), although there is no renewal fee as with traditional website domains.
4. Cryptovoxels
CryptoVoxels is a virtual world or metaverse built on the Ethereum blockchain. Since it allows the creation of galleries using the Spaces and Parcels feature, artists and collectors can build their art galleries on Cryptovoxels and use it as an NFT visualizer.
Anyone can create a space on Cryptovoxels and launch an NFT gallery. However, the downside of using a space is that artists and collectors cannot interact in real-time with others who are viewing their collection. Artists with an extensive fanbase prefer to buy a parcel of land on Cryptovoxels and then hire experienced designers to build out their NFT art gallery.
MakersPlace, Art Blocks, and Aims Art are popular artists with an NFT art gallery in the Cryptovoxels metaverse.
5. Decentraland
Decentraland is another popular virtual world built on the Ethereum network. The metaverse is an NFT visualizer for collectors looking to explore popular art galleries that host both static and animated artwork from early NFT artists.
UK-founded traditional art company Sotheby's went on record as one of the largest art auction companies to open a virtual gallery in Decentraland. Other popular virtual NFT galleries in Decentraland include KnownOrigin, MakersPlace and the Decentraland Museum.
Artists and collectors with technical knowledge can build their own NFT visualizers on Decentraland or host their artwork on any of the popular art galleries in the metaverse.
What to look for in NFT viewer
Whether you're an artist or a collector, here are some features to look out for when searching for an NFT visualizer.
Like physical galleries, your preferred NFT visualizer should provide an option for you to connect with visitors exploring your collection. Tools like Spatial, Cryptovoxels and Decentraland (parcels) lets you do so in real-time and allows for social interaction that draws artists closer to their fans. There should also be an option for followers to connect with you on social media platforms.
Choose a platform that supports the kind of media used to produce artwork that you create or collect. Popular formats include jpegs, pngs, MP4, 2D and 3D images, and other kinds of digital files.
Unless you already have a large following, it might be best to stick with free-to-use NFT visualizers. If you do choose to settle for a paid platform, carefully review and compare the costs of setting up a virtual gallery across different metaverses.
Conclusion
Artists spend valuable time designing artwork and collectors spend time and money scouting for the best NFTs to add to their collection. Hence, it only makes sense that both artists and collectors show off their collection to fans and potential secondary market buyers.
This article reviewed some of the best NFT visualizers where you can show off your NFTs, including interactive displays and virtual NFT art galleries. It also mentioned popular art galleries that already own virtual galleries. Their involvement suggests that this trend will likely gather more public interest as the market matures.