Are you a digital artist and want to learn how to sell NFT art? Many artists and collectors are already embracing this method of 'digital art collective' and making cool money.
According to Nonfungible.com, roughly $400 million of NFTs has exchanged hands-on NFT marketplaces in the last three years. The market for these digital assets continue to grow and will likely continue to do so.
Table of Contents
How do you grab a piece of the pie as an artist?
Start by reading our guide to understanding what an NFT is and how it works. Once you have that knowledge in the bag and some really cool art that you want to sell as an NFT, the next step is figuring out where you can sell them.
Where can I sell my NFT's?
1. OpenSea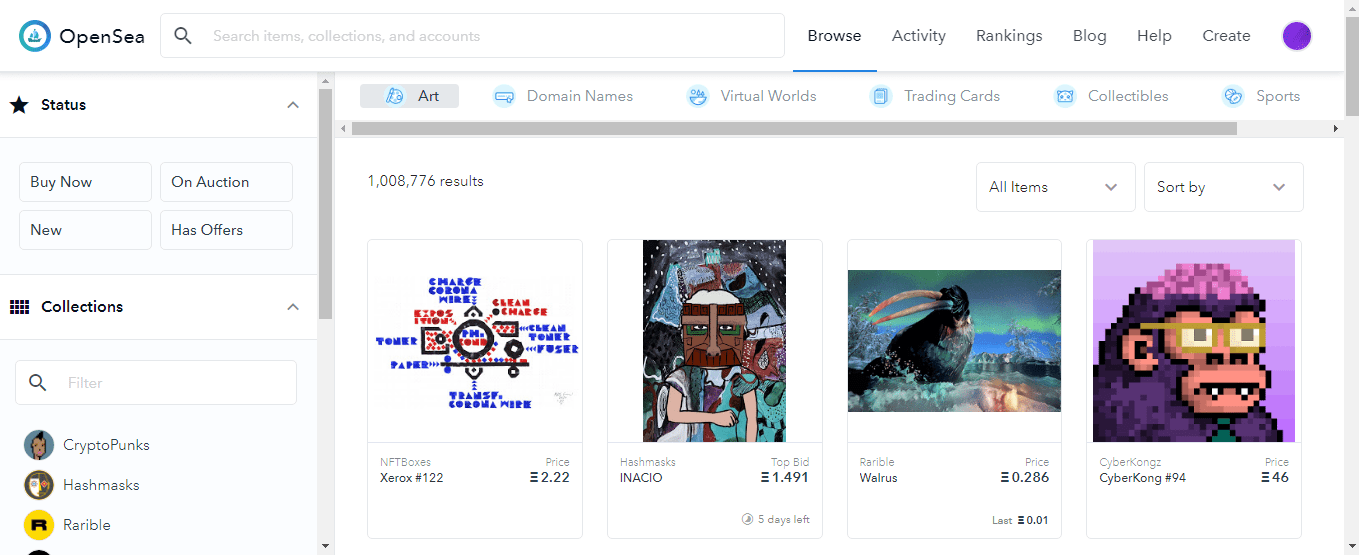 OpenSea is currently the industry's largest NFT marketplace. What you find on the website include art, virtual world materials, trading cards, domain names, collectables, sports and utility tokens.
The platform indexes art from other NFT marketplaces and thus has a broad collection of art listing, over 1 million at writing. All items are price in ETH, with some available for a specific price and others via an auction.
Although any artist can apply to list their digital art on OpenSea, the submission usually has to pass through a vetting process by the team before it is approved for full public trading on the platform. Artists can also define royalty parameters for their works.
2. Rarible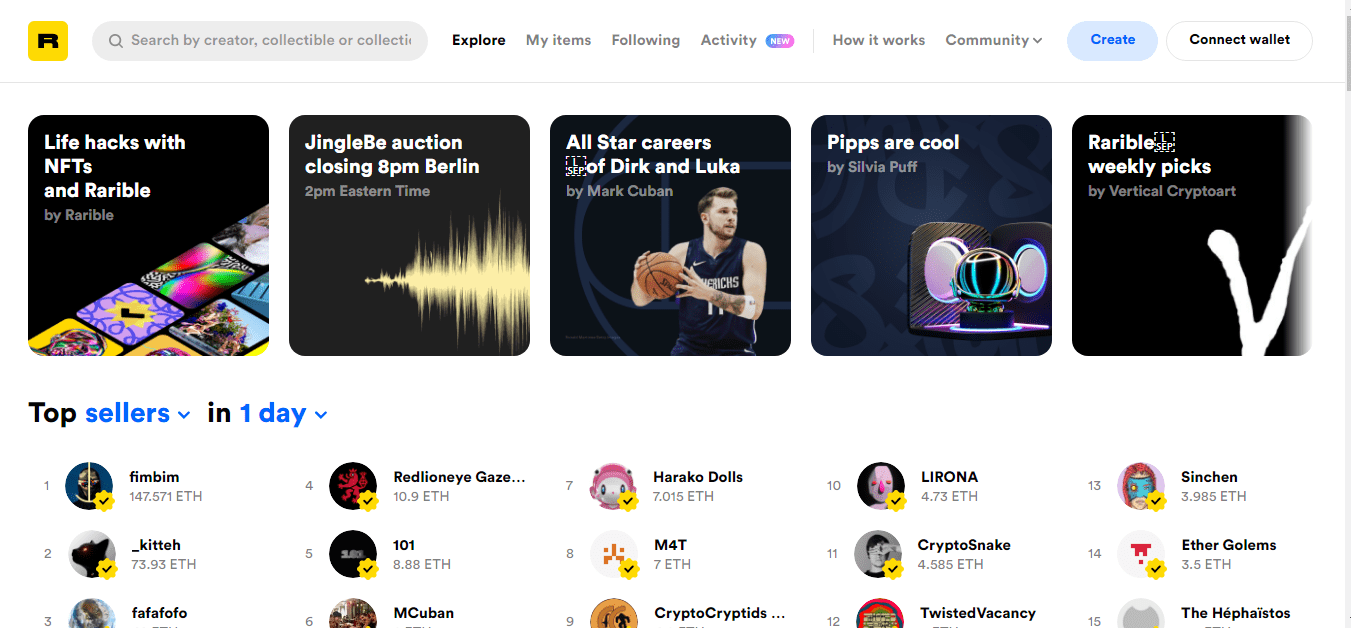 Rarible is another great platform to mint and sell NFT art. On Rarible, every item is priced in ETH and available either as 'Buy Now' or via an auction.
However, to get the most out of Rarible as an artist, you need to apply and get a verified badge from the team. The approval process usually takes less than a week and requires that you submit proof that your work is original.
Additionally, artists must share links to their social media channels, with a strong following and an active community being among the criteria for getting a verified badge. Artists with a non-verified badge may struggle to attract buyers.
Top sellers on Rarible bring in up to £100,000 weekly and earn a 10% royalty if a buyer resells their art for a higher price. Rarible offers an OpenSea integration, allowing artists to use OpenSea to view and manage assets they create on Rarible.
3. SuperRare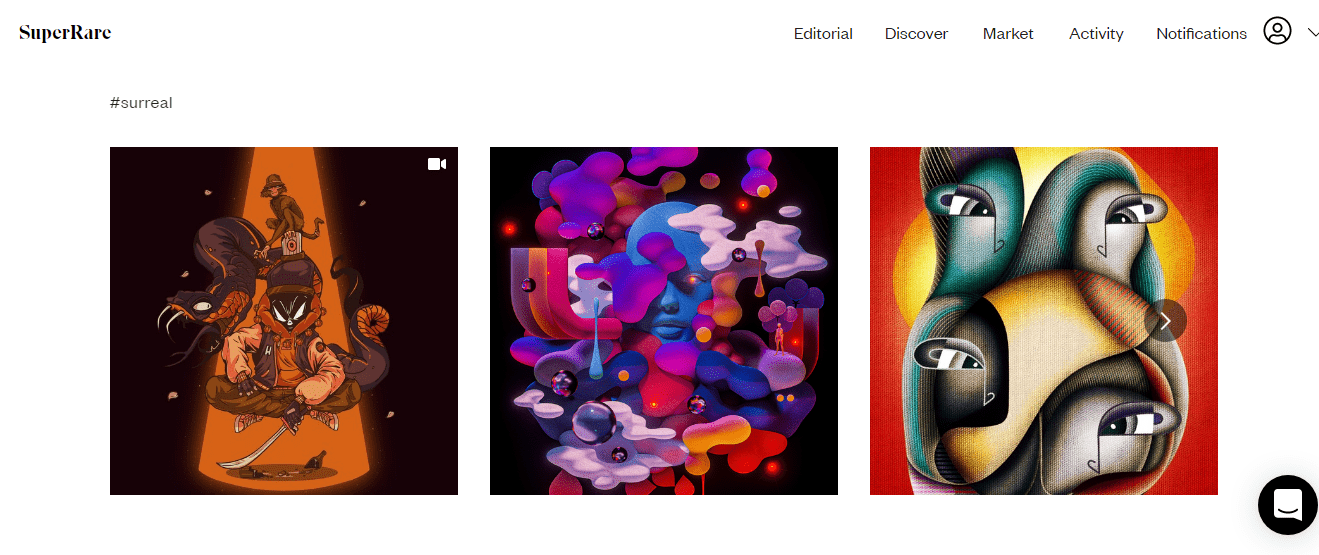 SuperRare brands itself as a marketplace for collecting and trading "unique, single-edition digital artworks." Artists can list their work under different tags such as 3D, animation, painting, abstract, illustration, surrealism, etc.
Although anyone can sign up to start buying NFT art on SuperRare, it is not the same for artists. At the time of writing, SuperRare is still in a beta phase, and interested artists must submit a form ahead of the full release.
Existing creators receive 85% of the amount they sell per item and also get a 10% royalty commission if a collector resells their work. Meanwhile, the buyer pays a 3% transaction fee at the purchase time, which goes to SuperRare.
Now that you know where to sell NFT art, the next step is to get your work out.
How to Sell NFT art in 5 Easy Steps
1. Create a Web3 Wallet
Since non-fungible tokens (NFTs) are blockchain-based assets, you need a wallet to create, send and receive them. You also need to fund the wallet so that you can pay transaction fees associated with your transactions.
Since most NFT platforms are built on Ethereum, you need an Ethereum-wallet funded with their native currency, ETH, so that you can pay transaction fees.
Most experts recommend using the Metamask wallet extension on Chrome or any other browser you use. The extension allows you to connect with an NFT marketplace and use related serves directly from your computer's browser.
You can read this Metamask setup guide.
When you install and run Metamask for the first time, you will receive a 12-word recovery phrase. Back this up in a secure offline location and proceed to copy your ETH address.
2. Fund Wallet With ETH
Next, you need to buy ETH from a cryptocurrency exchange or broker and send it to your Metamask ETH wallet address.
When you use a broker like BC Bitcoin, you only have to provide your address on the purchase point while they transfer the coins to your address. However, if you use an exchange, you'll have to withdraw the ETH after purchasing it.
Most platforms let you complete the purchase using your credit/debit card or bank. Either way, make the purchase and send at least £150 worth of ETH to your Metamask address.
3. Prepare Your Artwork
You probably have your artwork ready by now. If you don't, you can prepare a unique sample artwork.
Browse through the marketplaces mentioned earlier to get inspiration on what makes the top-selling NFT art. Your NFT can be either a video, audio, image or 3D model with a maximum size of 100MB.
4. Submit Your Work on an NFT Marketplace
Visit your preferred NFT minting and selling platform and connect your Ethereum wallet. This tutorial uses OpenSea.io since it is the most widely used option at the time of writing.
How to do it:
Sign in to OpenSea via your Metamask wallet. (Click the blue icon on the top right of the website and then Sign in).
Approve the Sign transaction designed to secure your wallet.
Once complete, the website takes you to the Account page.
Select a username, write a short bio.
Provide your email and complete the verification via your inbox.
When back on OpenSea, select Create from the top Right and Submit NFT from the dropdown menu.
Click Create under 'Create New Collection.'
Provide a name for the collection, description (1000 characters), and a logo (350*350).
Click Save and wait for a message confirming that the collection has been created.
Click Edit on the next page to customise setting such as header image, link to your social media handles, payment currencies and royalties, display themes, etc.
Click Submit Changes and return to the Collection's page.
To create your NFT, click the Add New Item under Collections.
Upload the artwork alongside other necessary information such as an external link and description.
Fill in Properties, Levels, and Stats using information such as the year of creation and the edition of the NFT you're uploading, e.g. 1 of 5. You can upload another edition under the same collection since OpenSea only allows to mint one NFT at a time.
Click Create and approve the transaction via Metamask.
Congrats! You just minted your first NFT.
Next, go back to Edit from the Collections tab and toggle the option to submit your collection for review and approval from OpenSea.
Your art will be available to others while pending approval but with the Unapproved Collection tag or warning sign.
Once approved (could take a few hours or days), your NFT will have the Approved Collection tag when it appears on OpenSea listings.
Click the link for one of your art items and select Sell.
Choose your pricing model (fixed or auction) and select Post Your Listing.
Follow the wallet prompt to sign the transaction via Metamask.
Your NFT will become available in the public domain once the transaction is approved on the network.
5. Promote Your Content
Social proof is among the criteria that OpenSea and other marketplaces use to approve content creators. OpenSea specifically requires that you include the number of social media channels you actively manage and share your NFT collection to the public at least once.
Therefore, make it a goal to let your audience know that you're venturing into NFTs and get the word out as soon as you mint your first collection. Experts also recommend releasing free edition NFTs to build your followership and sales record on OpenSea.
Don't forget to add your upcoming NFT to our calendar to get more engagement!
F.A.Q
How Do Royalties Work in NFTs?
When creators mint NFT art on OpenSea and other platforms, they're usually entitled to up to 85% of the amount realised for the primary sale. The royalty for a secondary sale by an initial buyer is around 10% or more, depending.
Can I Mint NFT on Other Blockchains?
Yes. Although most existing and thriving NFT marketplaces are built on Ethereum, other blockchains such as Tezos, Binance Smart Chain, Zilliqa offer NFT minting functionalities for cheaper fees. Ethereum remains the preferred platform because the large developer and user base already investing in NFTs on the network.
How Much Can I Make From Selling NFT Art?

Despite the above figures and the fact that some NFTs has sold for jaw-dropping prices, there is no guarantee that artists can sell their art for the same amounts. Thus, the amount you make from selling your NFT art would depend on how well you build followership and the exposure from listing your work on a popular marketplace.
Conclusion
The journey toward minting your first NFT art may not be particularly smooth. However, it may well be worth it, especially if your goal is to reach out to an entirely new audience with your marvelous creations.
As more digital artists learn how to take advantage of the opportunity provided by NFTs, the market will grow bigger. Being a first-mover puts you in fine stead to educate others and probably stake a claim in an industry that many believe is far from reaching its potential.